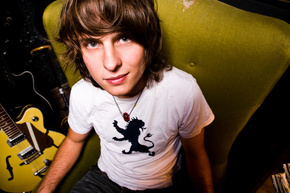 Meet The Record Life — the brainchild of 21 year old Jakob Johnson.   With a sound influenced in equal parts by his so-called Record Life of listening and playing.
Jake's audacious bow represents a marriage of his own musical influences, from Queen's operatic scope ("Alone In The Atmosphere"), the Beatles' harmonic melodies ("Step On Your Own"), Elton John's storytelling warmth ("Not the Same") and Death Cab for Cutie's intricate miniaturist pop ("My Lover, the Floodlight").
[youtube EakIQqMte0Y nolink]
"It's a tribute to all my favorite artists, genres and songs, an homage to each of them," explains Johnson, who grew up in the tiny western Arizona town of Cave Creek, north of Scottsdale. "I wanted to capture that cumulative feeling I've always had from listening to my favorite music."
The Record Life will release a digital EP on May 12th called The Souldier EP before their full-length debut, Into The Sea Of Something Big, later this year.
Got Me Good (Windows Media):
Not The Same (Windows Media):