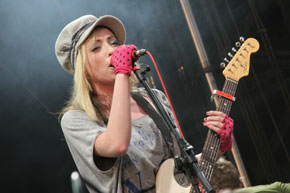 The Ting Tings were amongst a small contigent of indie rock bands who performed at this year's predominantly techno and electonica oriented Ultra Music Festival in Miami. They are an English indie pop band comprised of Katie White and Jules De Martino.
Their debut album We Started Nothing has garnered attention with singles like "Shut up and Let Me Go" and "That's Not My Name". It is playful and light with infectious chords, dancey beats and Katie White's girlish punk vocals. Instrumentally they sound a lot like Franz Ferdinand. De Martino pounded the drums while the lively White strode up and down the stage. She was dressed in a long grey shirt with a black belt tightened around her small waist. She wore red half-finger gloves with black polka dots — her nails were painted bright red to match.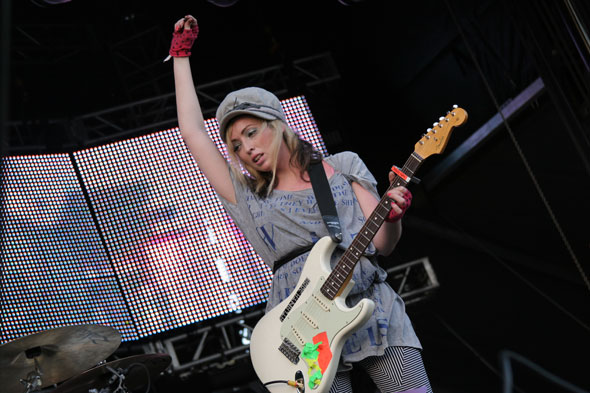 She gave a sprightly and enthusiastic performance gripping the microphone to her lips and entwining the chord in her upraised hands. Expressively singing into the mic she moved closer to the edge of the stage and acknowledged the crowd. She strapped on her guitar and strummed catchy riffs as she twirled around and danced wildly to the up-tempo beats.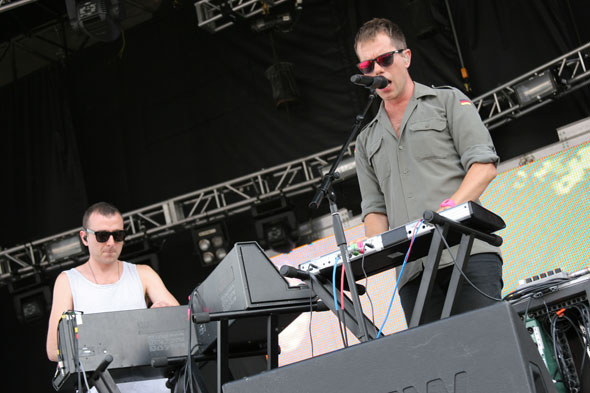 The Presets delivered a full and layered electronic sound with dreamy vocals. Australians Julian Hamilton and Kim Moyes offered up an immersive sound that washed over the crowd. Hamilton's sensuous voice was beautiful and grand as he sang his emotive lyrics. There are definite similarities to Dave Gagan of Depeche Mode. His vocals hovered over synthesizer melodies and pounding electronic beats as he alternated through his wide vocal range from the deeper monotone to the falsetto. Moyes jumped between mixer and drums throughout the set. His command of both electronic composition and percussion was impression. On drums he was a metronome, precise and deliberate as he added powerful beats to the electronic mixes. Song highlights were "This Boy's In Love" and "Talk Like That".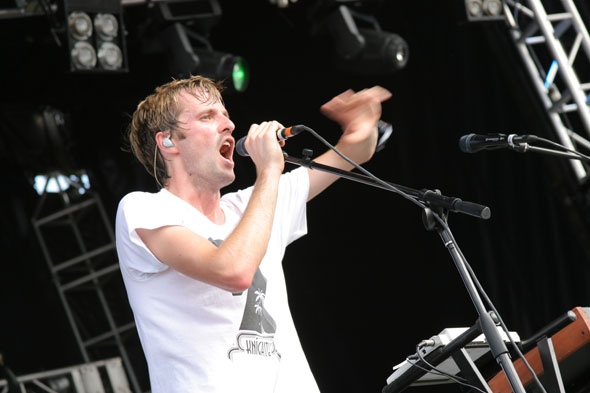 The Australian electro pop band Cut Copy hit the stage next. The threesome offered up beautifully composed keyboard melodies layered on rich electronic arrangements. The tall and lanky front man, Dan Whitford, hovered over his synthesizer, lips mashed against the mic, as he sang out his catchy lyrics. His voice has that new wave monotone quality that effortlessly glides over their all-enveloping electronic wall of sound. This is music you have to dance to; it picks you up and compels you to move your body. Plus the lyrics beg you to sing along. You could see the audience mouthing the words to every song.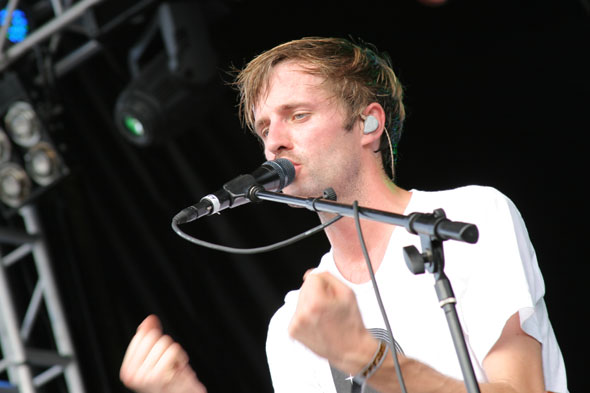 The set was divided between their two albums In Ghost Colours and Bright Like Neon Love with memorable performances of "Feel the Love", "Hearts on Fire" and "Going Nowhere". They finished their set with "Lights and Music", an up-tempo dance anthem laced with electronic fuzz, driving beats, guitar riffs, dreamy vocal chants, and catchy melodies topped by Whitford's sing-song lyrics "Lights and music are on my mind / be my baby one more time."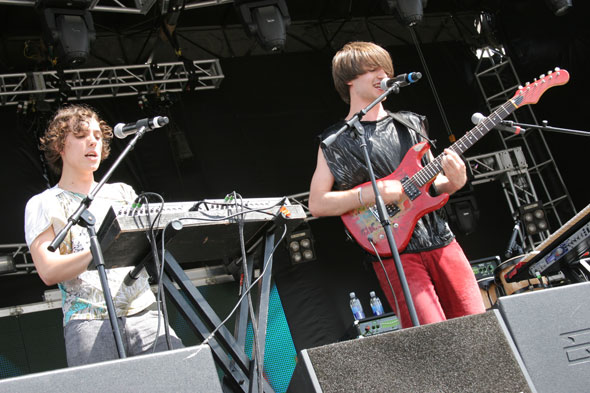 The fresh faced and youthful Late of the Pier are another electronically laced indie rock band. Lead singer Samuel Eastgate has a flamboyant almost glam vocal style that merges nicely with the raucous electronics. The very original sounding "Bears Are Coming" is an anarchic carnival ride of electric and organic sounds. There is a hip-hop styled beat mixed with oddly divergent samples like video game blips and conga drums. It's a wildly cacophonous soundscape that seems incongruent on paper but in reality pulls its self together in an odd but fitting marriage. The band cruised through their energetic set and exhibited their diverse sound, offering up a new approach to electronic arrangements.
Boyz Noize brought a very different type of electronica from many of the other acts that weekend. The beats varied and there were a lot of edgier electronic sounds in the compositions. DJ/composer Alexander Ridha takes a novel approach to his production mixing in discordant beats and industrial samples. This was one techno performance that managed to stick out from the rest. His songs had a definitive character and were eclectic and varied compared to the more repetitive drone coming from the other acts.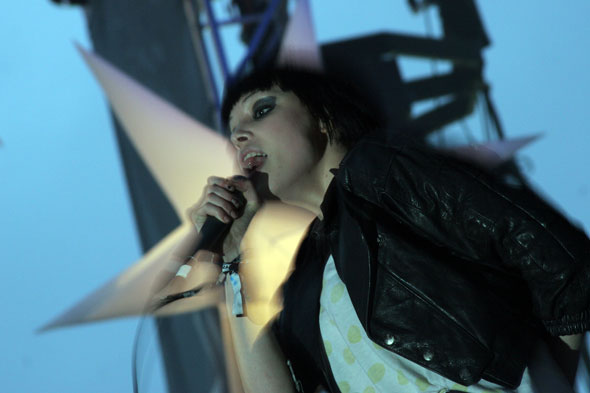 Discordant arcade game blips and beeps clash and collide to make for odd electronic compositions that are strangely compelling. Crystal Castles spend half their time in this angular and obtuse sound space where your eardrums are assaulted by high decibel 'Space Invaders' like sounds. It's like being forced to wear a hearing aid set to full volume while trapped in a loud video game arcade. Ethan Kath kept himself from the crowd buried in his mixers and synthesizers and shrouded by a hooded sweatshirt, beard and sunglasses. Meanwhile Alice Glass paced and screamed, throwing herself to the ground again and again as she acted out what appeared to be a torturous mental breakdown. Glass is known for her wild and unpredictable stage antics. She smacked the microphone against her head several times as she walked dazed around the stage. The songs ran the gamut of their eclectic sound ranging from the more palatable "Crimewave" with its understated and modulated vocals by Glass and the simultaneously dreamy and agile synthesizer melodies to the piercing analog collisions of "Untrust Us". Over songs like the latter, Glass yelled over the spastic beats and made no attempt to harmonize. It's an avant-garde approach that has gained them some notoriety among disaffected underground music fans and critics looking for a new sound to cling to.
Words and Photos: Shaun Flagg