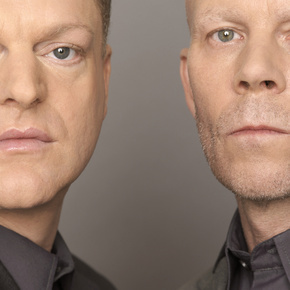 Total Pop! Deluxe is a comprehensive 3CD/1DVD set featuring 40 newly remastered hit singles spanning Erasure's five no. 1 albums and eighteen top 10 singles. Also included is a brand-new 2009 remix of "Always" by Jeremy Wheatley, a CD of live audio performances, a DVD with music videos, interviews and BBC TV appearances, and a 76-page booklet.      
The definitive synth-pop group of the late 80's, Erasure has released 24 consecutive Top 20 singles in the U.K., and sold over 15 million albums worldwide.   Formed in 1985 by singer Andy Bell and Depeche Mode founder Vince Clarke (after his stint with Alison Moyet in the short-lived Yaz), Erasure has scored hits on both sides of the Atlantic with their stylish pop-soul fusion.  
Erasure's own Andy Bell will be traveling stateside from London the week of April 7th. He will appear at Amoeba Music on Sunset Blvd in Hollywood on April 9th for a DJ set and autograph signing, and will also perform a DJ set at the legendary White Party Palm Springs on Saturday, April 11th. This year marks the 20th anniversary of White Party Palm Springs, the largest annual gay party, and one of the largest dance events in the nation. One lucky winner attending the Amoeba Hollywood in-store will receive a pair of tickets to the White Party in Palm Springs to experience an exclusive poolside DJ set with Andy Bell.  
Listening Party:
Photo Credit: Steve Double