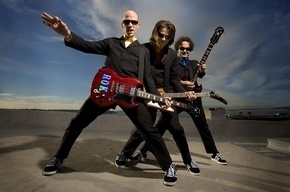 Since their inception over a decade ago, THE PRESIDENTS OF THE UNITED STATES OF AMERICA have remained one of America's best live bands, combining their indie garage sound and intelligent weirdo lyrics into an unforgettably fantastic live show.
PUSA have proved how a little garage band can have long-term success by sticking to their roots, taking care of their fans, giving away music (free weekly downloads at www.presidentsrock.com), and keeping it simple, stupid. Every year they headline and sellout tours in the US and Europe, with an Australia or Japan added in for texture. Their sets are 90-minute joy-fests, where the crowd is tasked with singing, stomping, and general '4th President' duties. It's something to see. If you don't believe it, ask a door person or bartender at your town's favorite club, and chances are you'll get an earful.
"Rot in the Sun":

Rot in the Sun from DFuzed on Vimeo.
Upcoming Tour dates:
3.29 – Garage – Bergen, Norway
4.1 – 2 Club – Moscow, Russia
4.3 – Vicar – Dublin, Ireland
4.4 – The Forum – London, UK
4.15 – Toad's Place- New Haven, CT
4.16 – Lupo's – Providence, RI
4.17 – House of Blues – Boston, MA
4.18 – Fillmore at Irving Plaza – New York, NY
4.21 – Lee's Palace – Toronto, ONT
4.22 – Wescott Theatre – Syracuse, NY
4.24 – The Trocadero – Philadelphia, PA
4.25 – Stone Pony – Asbury Park, NJ
4.26 – 9:30 Club – Washington, DC
7.4 – Glen Watkins Int'l Raceway – Watkins Glen, NY