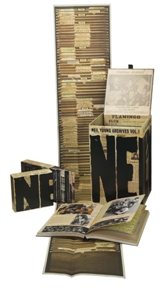 Neil Young's highly anticipated collection Archives Volume 1 1963-1972 will be released June 2 on Reprise Records. The box set is the most innovative compilation ever assembled, focusing on the life of one of the most original musical artists of the rock era. It features new technology to follow Young's career, and will be available in three different formats: Blu-ray, DVD and CD.
The Blu-ray edition presents the new technology of an interactive platform with music, video and text, and allows for material to be added later via the internet. The Archives, like Neil Young himself, is breaking brand new ground for how music can be presented.    
Pre-orders at www.neilyoung.com will include a free preview version (called Disc 0) to be sent out before the June 2nd release date, along with an exclusive 7″ single of the early songs "Aurora" and "Mustang."
Neil Young Archives is an ongoing series that will continue through the entire career of rock's most enduring artist. Nothing like it has been achieved before, and as new developments occur they will no doubt be incorporated into future volumes of the Archives.   It is the technical heart and musical soul of everything Neil Young has created.