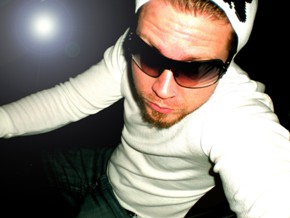 "d.wayne" has spent the past few years of his life focusing serious time on his Music abilities. Although born with acoustic in hand, he had not put his voice with it until his early 20's. Late start? Maybe.
But with his fresh, smooth spin on traditional acoustic singer-songwriting, d.wayne has begun to make his impression on Minneapolis, MN.
Spending the majority of '08 playing his weekly gig at Solera Restaurant in DT Mpls, he has decided to move into much livelier platforms. Opening up for The New Congress and guest performing with Steph Devine, he feels his wheels have started turning and has no plans of slowing down. He released his first CD "Something New" in March, and has just booked his CD release party for May 29th at Trocaderos.   He was recently hired by Aveda to perform at there annual Earth Day event. He will be playing short sets through out the day while clients get the hair done.   All of his CD sale proceeds for that day will be going to support Mpls Clean Water.
 
d.wayne, "Dusty Wayne Rhode" was born, raised, and resides in St.louis Park, MN."no not with my Mom ;-)", he says.   He is the proud Father of 3 soon to be married. He loves singing, playing and song writing whenever time allows. His "Something New" CD   is a collection of joy, triumph, courage, pain, and relationship ups and downs. Says d "I write of what I know and what I have been through. Sometimes poppy, sometimes sappy, but always genuine".
d.Wayne's soulful lyrics and soft acustic guitar remind me of the 70"s when you could walk into a Cedar Riverside coffee shop and hear Dylan and many other great singer/songwriters who took a chance revealing themselves thru their music with emotion and tenderness.   "Something New" is a song that stays with you in melody and content long after you hear it.    
When did you start singing/writing songs and playing the guitar?  
I have played guitar for about 15 years, but did not start composing until around '00/'01.   It took me until I was around 20 years old to feel confident enough in my talents to even consider composing an entire song.
 
Who were your early influences?  
I would have to say my greatest influences of people that actually inspired me to start writing would have to be Lenny Kravitz, Anthony Hamilton, Maxwell, and of course Prince.   My favorite era of music hands down is 90's R&B.   Although that is not exactly the sound that comes out of me in my music, it is definitely what motivates me and gets the creative mojo flowin.
 
What do you want to be doing 5 years from now?    
Within the next 5 years I would like to have my self established as a well respected and sought after Minneapolis Musician.   There are so many greats in this town and I just want to be on everyone's radar as a guy that puts on one hell of a show.   I love working with other musicians also, whether singing back up or guest performing, I would love to continue building and strengthening those relationships.   Although I love the intimacy of performing solo, I hope to put together a small 3 to 4 piece band in the not to distant future. " Thinking of a more Drum, Bass, and Strings sound to add in with my Acoustic. So everyone be watching for that!
 
Do you have another job besides performing?    
Believe it or not I am a Hairstylist of over 10yrs in the biz. I have had wonderful long standing success in the hair industry.   I was a global educator for 2 different major product companies and have been fortunate enough to travel the world educating my peers in all aspects of the hair business.
 
www.reverbnation.com/dwaynelive
Words By: Diana Olson