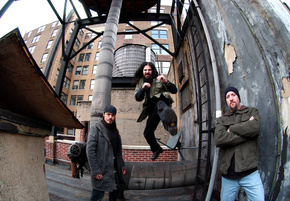 John "J.D." DeServio's career as a bassist can be defined only as formidable and impressive. His time spent with Black Label Society has taken him around the world and made him a sought after bassist for clinics from Japan to South America and back.
But long before he began globetrotting, J.D. started out like most accomplished musicians, in the garage with a band and a bottle of Captain Morgan. Twenty-five years later, that same band has emerged as Cycle of Pain with an intense and diverse self titled hard rock album.
At 15 years old, J.D. began practicing his favorite Iron Maiden, Black Sabbath, and Scorpions tunes with good friends Joe Taylor (guitar) and Gregg Locascio (drums/vocals). Despite the many high profile moments in their careers (Lita Ford, Vinnie Moore, Drill, Rich Kotzen and many more), the old band has always aspired to record and tour together. Cycle of Pain later added Rich Monica (Tantric) on drums.
WINDOWS MEDIA AUDIO: Cycle of Pain – "Dead Man":
WINDOWS MEDIA AUDIO: Cycle of Pain – "14 Devils":