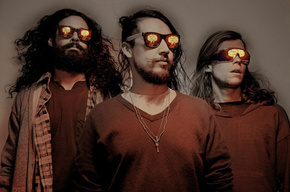 Brooklyn-based trio Children will release their new album on May 12th, titled Hard Times Hanging At The End Of The World (Kemado Records).   Check out the song "Power Spirit" for a taste of the band's fierce and fast brand of metal.
New York City's Children are about to deliver an electric shock to the world of contemporary metal. Their debut, Hard Times Hanging At The End Of The World, ripples with speed, precision, and a visceral intensity that is seldom seen in any genre of music these days.
"Power Spirit" MP3:
The trio, guitarists Skyler Spohn, Jonny Ollsin (formerly of Vancouver's S.T.R.E.E.T.S.), and drummer Adam Bennati (of Early Man) put out their first release in early 2008, the 12" single for "Death Tribe."   However, it's Hard Times that showcases the band in its fully realized form.   The band has crafted a set of meticulous compositions, including several marathon-length tracks that stretch past the seven minute mark.   Even when Ollsin isn't wielding his throaty growl like a weapon, the band's instrumental passages are so lyrical that they paint vivid pictures themselves.