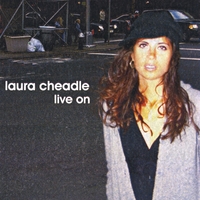 Laura Cheadle makes singing seem easy. She's teeming with the sort of soul that other artists can only dream of. And if her studio performance is any indication, she puts on an awesome live show.
Along with singing, Cheadle plays acoustic guitar, but don't let that fool you into thinking she's another mellow guitar-toting singer/songwriter. Her style is more soulful and funky, more jazz-influenced than pop. Her album, Live On, opens with "Constantly," which is fun and catchy and a preview of what's to come. The songs are mainly pretty upbeat and the lyrics are sweet. "In the AM" proclaims, "I never thought I'd be as happy as I am watching you sleep in the AM." It is refreshing to hear some songs in which the protagonist gets the guy.
But don't just listen to the lyrics. The songs are packed with great instrumental breaks and solos. Cheadle loves music and appreciates the tiny details that go into making a song more than just a melody and chords.
In case you have any doubt as to how Cheadle defines herself, she includes "Funk Is Dead." She sings, "If funk is dead, then so am I." And her voice shines, although she doesn't show off. She just lets her voice be what it is, which is smooth and soulful.
She's backed by incredibly talented musicians, as is showcased by the keyboard and guitar solos in "Funk Is Dead." And she showcases her pianist in "Something Today." A whimsical introduction is joined with Cheadle's breathy voice, showcasing her sweet side.
The album is definitely worth listening to. This is what a girl with a guitar can do.
Review By: Valerie Williams
*We are fully aware that another Skope writer reviewed this CD. Music is opinion based and it is nice to get another writers  perspective so that is why we have no problem posting  a second  review as well.*
[Rating: 4/5]