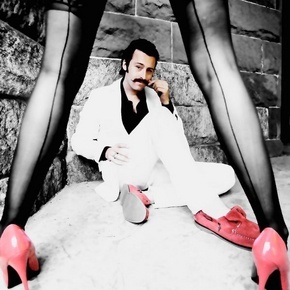 If I was to simply tell you about this next guest you might think that I was kidding. Well, Jay Della Valle is the real thing. He is a musician but also a strong advocate for the mustache. Yes, I said mustache! Jay is one of the most interesting & unique musicians I have ever dealt with. He is ready to head out on his 'Stache Bash 2009' tour next month but I had to have him on to explain his music & peculiar cause, enjoy!
Stoli: Can you please explain how your love for the mustache began?
Jay Della Valle: Actually, before I had ever grown a mustache-when i was 24- i didn't even think twice about how cool a mustache was. i didn't care or notice them. one day i thought it would be interesting to just have one. everyone had something to say about it. i like the attention i guess- even thought most of what they had to say was negative. i started to get very protective of it- and realized that there was something about it that incited people. that prompted me to make the documentary.
The Glorius Mustache Challenge on The Today Show
[youtube qeijoERWoV4 nolink]
Stoli: What came first, your love for music or your infatuation with mustaches?
Jay Della Valle: Umm. my love of music of course. my family works in the entertainment industry- i grew up around musicians and my dad is a great performer- so i grew up wanting to be just like him! as for20my "infatuation" with mutaches- people tend to think that- I don't look at it as an infatuation with mustaches as much as a respect for the men who can own their mustache. It's the attitude and charisma a mustache can help strengthen when a man wears it like a badge of honor. This is what makes me nod my head and say "yes- that dude and his mustache rock."
 
Stoli: You are about to embark on 'Stache Bash 2009 Tour.' What can new fans expect from a show on this tour?
Jay Della Valle: Great bands. Hilarious antics. Lots of sweat. These bands aren't just your average group of guys playing their crappy original music. They rock staches- they write songs about their mustache lifestyles. They WILL make you laugh and want to dance. All of these bands have it in them to have huge careers in music- they are that good. Audiences can expect an epic Mustache Contest- prizes for the best mustaches in various categories. Even a fake stache prize for the ladies.   Video screens around the venues will show mustache music videos and eye candy revolving around some of the greatest moments of mustache. Anyone who does not have a stache will be given a fake stache. I've done this event 7 times in different cities. The second time around -the parties triple in size- people have such a good time- they go tell their friends- and they come back to experience the madness next time around. Mu stache love is contagious!
The Glorius Mustache Challenge on CNN
[youtube HeMPckj9xgE nolink]  
Stoli: Do you play the same songs every night on the road or do you like to switch it up every show?
Jay Della Valle: Mostly, we play the same songs. We might change up a few covers- but the originals are usually the same.   We throw in some 70's porno music and some game show-esque music for the contest. We keep it upbeat and rockin- interacting with the audience, taking a lot of pictures, and throwing in some evangelist-style mustache banter.
 
Stoli: What would happen if I show up to the Philadelphia, PA show with a clean shave?
Jay Della Valle: People would throw hair at you. Someone might call you a pussy. You might feel slightly uncomfortable being around so many real men with mustaches. Truthfully, if you don't have a mustache at the event- that doesn't mean we don't think you embrace the stache. We'll give you a fake that you can wear if you want to. Hopefully we'll inspire you to go home and grow one.
Stoli: You have a very sexy pic with Playmates taking part in the fun, how did you get the ladies to embrace this trend?
Jay Della Valle: One thing about having a mustache:   women want you- men want to be you. You emit confidence and studliness.   I was just hanging out at this event- and these playmates came up and started to tickle me and touch my stache. I had to let them take a photo with me.   That was a fun night. For all 5 of us ;)
Stoli: Do you ever get concerned that your mustache challenge will overshadow the powerful music you are putting out?
Jay Della Valle: It has been talked about. The band was concerned that we would come off like some "Paul Schaffer" back up band for my mustache routine. I didn't think of it like that- but as it turns out- I think a lot of the press are so intrigued by the Stache Bash concept- that they don't pay as much attention to the bands music-which kind of pisses me off. We're going to go out to these events- put on a kick-ass show- meet a lot of people- and win over a lot of new fans.   We're just testing the waters- seeing what happens- it can't be negative in any way.
The Glorius Mustache Challenge on The New Yorkers
[youtube psbY1DuHVaM nolink]  
Stoli: Do you feel that the Stache Bash and your music help to co-promote eachother and was that you intention?
Jay Della Valle: Yes, totally! There's an energy to the mustache related things I do- that keeps people amused and intrigued. It's become a personality hook for me. I see it all as one audience for me. Yes, that w as my intention- to eventually merge these two ideas into one strong identity.
 
Stoli: Please name a couple musicians or actors that you feel have an ideal mustache?
Jay Della Valle: Actors:   Tom Selleck, Burt Reynolds, Wilford Brimley, Sam Elliott, Casey Affleck in Oceans 11, Ryan Gosling in Lars & The Real Girl, Jason Lee in My Name is Earl.   Musicians:   Jesse Hughes of Eagles of Death Metal, Rivers Cuomo of Weezer, Brandon Flowers of The Killers, Eugene Hutz of Gogol Bordello
Stoli: You have received a load of press. How much has this mustache movement grown since it first began and how big do you see it getting?
Jay Della Valle: It has grown immensely. We can all see that by the way everyone makes a big deal when anyone famous grows a stache these days. Jason Giambi, Brad Pitt, etc.   When I first made my movie, The Glorius Mustache Challenge, no one gave a crap. They just thought it was funny that I was doing it. When I tried to do research on the mustache- there were only a few websites that even pertained to people growing mustaches for fun. Now- everyones doing it. People are doing mustache growing charities, music events, and all sorts of mustache related gatherings are happening around the world. People think its hilarious- and it is! No o ne is ever disappointed after they go to a mustache party- I guarantee you. Everyone gets so psyched. How big do I see it getting? I really believe we're just touching the surface of what is possible. Hopefully we can keep doing this event- and getting more and more people to come out and rock their staches every year.
 
Stoli: Saddam Hussein & Adolf Hitler both had mustaches. Do you feel that they helped contribute to it's downward popularity?
Jay Della Valle: Nah- I don't think people care. Saddams mustache is not that unique. Hitler's is- so most people don't rock that one. But some do -and think its funny. Funny maybe because the person has to have the balls to rock it- and not only because it's the Hitler stache- but because it is by far the ugliest mustache one can have. It makes you look like your smelling crap. It is a coincidence though that all these bad people had mustaches. Not good PR for my beloved stache- but we will overcome!
 
Stoli: When you sit down to write music, how much does your real life come out in the lyrics?
Jay Della Valle: I can't really write songs about stuff I can't relate to- so i would say all of it is inspired by real life in some way- from some perspective. Honest music is timeless. If you have a unique take on lo ve, life, or anything for that matter- and can express it in a song with an original concept- you will "move" people if it's good.   And that's the point!
Stoli: What is your favorite part of being a musician and traveling from city to city?
Jay Della Valle: To break away from the everyday schedule- and just get in a van and go somewhere with your band. To only think and concentrate on the task at hand- playing music, performing the show, enjoying the experience. It is the rock n'roll dream! To get out of your hometown and bring your music to another land with new people and unlimited possibilities.
 
Stoli: When you choose other musicians to work with do you demand that they have a nice mustache?
Jay Della Valle: Yes.
 
Stoli: How has your life & music career changed since releasing the 'The Glorious Mustache Challenge' DVD?
Jay Della Valle: A lot more web traffic and recognition for having done something pretty cool outside of music. If some people haven't heard of my band "Della Valle"- a lot of times they have heard of my film- so it's always good to hear someone say that. My life has changed a lot actually- people call me names like "moustache, Earl, moustachio, stache, mustache man"- i would have never predicted that 5 years ago. I think its hilarious. People are entertained by it. My music career hasn't changed that much because of it- one day I'll look back and see how it did- but now Im just trying to keep moving forward -so I can't really tell.
 
Stoli: Where can readers get more from Jay Della Valle and 'The Glorious Mustache Challenge?'
Jay Della Valle: Websites are best:   www.dellavallemusic.com, www.myspace.com/dellavalle,   www.stachebashevent.com, www.gloriusmustache.com      
Stache Bash 2009 Tour Dates:
NYC – Thursday April 2
Pressure
110 University Place (above Bowlmor Lanes) – Doors 8pm $20
Featuring: Della Valle, Band of Thieves, William Ocean – World Air Guitar Champion
BOSTON- Wednesday April 8
The Middle East (Upstairs)
472-480 Mass Ave. Cambridge, MA – Doors 8pm 18+ $10
Featuring: Della Valle, Mustache!, The Flavor Savers
BURLINGTON – Thursday April 9
Higher Ground (Showcase Lounge)
1214 Williston Rd. S. Burlington – Doors 7:30pm ALL AGES $10
Featuring: Della Valle, Mustache!, The Flavor Savers
ALBANY- Friday April 10
Northern Lights
1208 Rt. 146W, Clifton Park, NY – Doors 7pm $10 ADV $12 DOS
Featuring 4 Great Bands: Della Valle, Mustache!, The Flavor Savers, Vaudeville
PHILADELPHIA – Monday April 13
Doc Watsons Pub
216 S. 11th Street – Doors 7:30pm $10
Featuring: Della Valle, Long Walk Home
BALTIMORE – Wednesday April 15
The 8×10
8-10 E. Cross Street Baltimore, MD 21230 – Doors 8pm 18+ $12 Featuring:
Della Valle, The Grilled Lincolns, Conshafter, Vespertine Movement
WASHINGTON – Thursday April 16
DC9
1940 9th St. NW – Doors 8pm $10
Featuring: Della Valle, Conshafter
RICHMOND – Friday April 17
Alley Katz
10 Walnut Alley – Doors 7pm ALL AGES $10 ADV $12 DOS
Featuring: Della Valle, Conshafter
HARRISBURG – Saturday April 18
The Abbey Bar @ ABC
50 N. Cameron St. – Doors 7:30pm
Featuring 3 Great Bands: Della Valle, Slim Fit, Fink's Con stant
Photo by Chris Mastalia