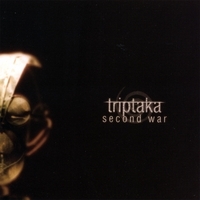 We have another Seattle-based band, but one that is bringing fresh originality to the table.   Triptaka is made up of Graeme Cornies on lyrics, vocals and tabla–James Chapple on synths, programming and drums and Dave Kelly on guitars, bass and drums.   This trio has a sound that can best be described as Industrialized Metalesque Alt-Rock.   There are distinct similarities to NIN, but these three artists add a whole other dimension that makes it their own style.  
The music literally rocks with the electronic elements and the emotions backed behind the songs.   All songs are solely written, recorded and produced by Triptaka with the exception of "Suspended".   So, you get to hear the band's inner-most feelings expressed in a heavy, dark and even sensitive manner at times.   Loving the freedom as an indie band, the threesome has no qualms about speaking their minds.   Everything from love, death and politics to religion, fear and hate are all touched on during Second War.   Triptaka gets extremely personal with themselves and also with their fans/listeners on this record.
The album offers nine tracks of diverse quality while also including major substance.   The record starts off with a heavy, industrialized sound containing dark & dreary overtones.   I would link the style of this song, "Suspended", to that of the Goth Rockers–Nine Inch Nails.   Next up is "Lost & Leading", which offers up a very futuristic and mysterious vibe overall.   Reaching the middle of the recording proves to be a completely different appeal on "Mother".   Here, the effect is so much more subtle and subdued in approach compared to the prior heavier-hittin' songs.   "The Source" contains a one-of-its-kind instrumental to start things up–simply amazing.   Cornies wraps it all up on "Don't You Think It's Time You Let Go?" with a soft and sensitive-sounding vocal performance.  
Overall, Triptaka is a very unique band that has a lot of potential in the music world.   Not to mention, the three men have a lot to get off their chest on Second War.   Message heard loud and clear and I must say I really enjoyed this album.   For more on Triptaka and their latest record, Second War, SKOPE out www.triptaka.com.
By Jimmy Rae
[Rating: 4/5]