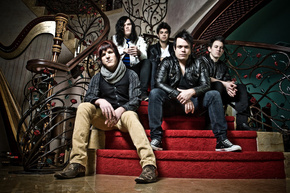 My next guest is a band that came straight out of Las Vegas, Nevada. Ashbury is a band that was the creation of brothers Brian and Jeremy Lee. You have probably already heard them on popular MTV shows such as The Hills, Laguna Beach, and Pimp My Ride. Not only does their music kick ass but they are big into giving back through such organizations as Jerry's Kids and The Invisible Children Foundation. Check out their new EP coming out March 31.
Stoli: Why did you decide to name the band Ashbury?
Ashbury: Ashbury and Haight is the famous intersection in San Francisco where the big hippie movement happened in the 60's leading up to the summer of love in 1967. Many exploratory people came together in that area creating its reputation as the center of hippie culture, rock-and-roll lifestyles, and a haven for a number of important psychedelic rock performers and groups like The Grateful Dead and Janis Joplin. It's a historical moment in music history and so our name is in honor of that
Stoli: What was it about the Lee family that inspired Jeremy & Brian to form the band?
Ashbury: The Lee's are known for their endless list of talented family members. One uncle spent time in major league baseball, while their grandpa's voice is still topic of conversation at the dinner table, and another uncle was a big rock performer who had a good shot at making a name for himself. There's definitely talent flowing through their blood, but I think it was Brian's voice and inner feeling that he had to do something great with it that really got them started. He could technically sing before he could talk, and he's been doing it ever since. This, his amazing ability to write, and desire to do something special that he really loved was all this band needed to get and stay going.
Stoli: Being in a wild city like Las Vegas, does that offer you greater live opportunities and how is the overall local music scene?
Ashbury: Las Vegas definitely has its fair share of crazy shows, with plenty of fans upholding the "what happens in Vegas stays in Vegas" tradition. Every show has its potential for wild "you don't see that everyday" experiences :). But Las Vegas in my opinion has an up and down local music scene. It's more difficult than one would think to maintain yourself as an all ages venue in a market so directed towards the 21 and older crowd. Venues will come and go with zoning issues, parents will think twice about driving their kids next to tempting night life, and the entertainment choice on a day to day basis can get overwhelming. But I will say that Las Vegas is our home. And I think any home town city will offer a band greater live opportunities! We're very lucky and proud to have the fans that we have in such a wild place.
Stoli: You have had music played on such shows as The Hills & Laguna Beach. Do you feel that pigeonholds you to try and cater your music to the MTV demographic?
Ashbury: No I wouldn't say that at all actually. I feel like our music appeals to a very broad demographic ranging from young kids to their grandparents, and therefore just so happens to also fit with what MTV was looking for.   One thing the band is all about is writing music that we feel is the best we have to offer.. and has always stuck to that.   When we came out with our first full length album "Complacency" we hadn't imagined the songs being placed on those shows, it just sort of happened. I think the new music we're coming out with is even better than anything we've had before, I think it will also be very appealing to MTV, but was definitely written to cater to ourselves and our fans :)
Stoli: How long have you been working on your new EP, 'Let's Make A Scene?'
Ashbury: Since the day our first full length album came out. The band is always always writing. Brian's writes new songs everyday, Joey's constantly tweaking songs and listening to them while on his daily drive in his truck… everyone just doing what they love and always growing as musicians and songwriters. Our new EP 'Let's Make A Scene' comes out March 31st, 2009, writing for the next album begins right now.
Stoli: How has working with Lou Giordano on this album helped to elevate your sound & what have you learned from working with him?
Ashbury: Lou was the perfect producer for Ashbury. He's so organized, keeps such a great vibe in the studio, and is a ninja at pulling the best possible performance out of you. He had his yellow notepad next to him at all times making sure that each part was covered and every song turned out to its full potential. A lot of arrangements were adjusted just right adding that extra hook or irresistible vibe. His comfort in the studio and instant chemistry with the band definitely comes through on the record. "One more clam and you're through!!" he would joke with pasta on the stove and italian sausage cooking on the grill. I wouldn't have it any other way
Stoli: Many bands are putting out EP's instead of full albums. What is the advantage to you to put out an EP?
Ashbury: EP's to me are a sneak preview of yourself. It's your chance to put your best foot forward and say, "give me a second to catch your attention forever." When bands are getting their start or trying to make a name for themselves, I think often times fans get overwhelmed with how much music is out there, which songs to listen to, and they are too quick to get turned off fairly easy. An EP shows fans your current best of the best, and gets them excited for what's to come. You just have to make sure it's the best!
Stoli: What happened to you that made you realize that your name & sound was catching on beyond the local Las Vegas scene?
Ashbury: We just seem to get opportunities to do things that most unsigned bands don't get to do. We've opened for Bon Jovi twice, have had music placed on multiple MTV shows, performed multiple times on The Jerry Lewis Telethon, reached number one on top 40 radio stations in Las Vegas and in central Wisconsin, and have had chances to play with artists like Jewel, Nickelback, Live, Panic at the Disco, etc. When you're constantly active and are doing the right amount of things the right way for a long enough period of time, I think you're bound to end up in the right amount of places.
Stoli: You do alot of amazing work with The Muscular Dystrophy Assoc. What inspired you to get involved with that cause and how can readers help out?
Ashbury: We're very lucky to be able to do what we do and see the things that we see. And it's a great thing to be able to give back to causes who aid those who are in need of help. The band has family involved in the planning and aiding of the MDA. We were glad to be able to make a difference by donating our time and our music to the telethon. The funds raised just this past year were at a record high! And it's a cool thing to be a part of that. You should always help when you can, and be a part of making a difference in someone's life. Donations can be made at any time by checking out www.mda.org and clicking on "how to help". From all of us and more, thank you!
Stoli: Many bands are using the Internet to go the 'DIY' approach to music. Will bands need major labels 10 years from now to get exposure?
Ashbury: The Internet has changed so many things about the music industry. I think we've already reached a time where bands definitely don't NEED any label to get exposure. We all have access to the best promotional exposure tool in the world in the comfort of our own home. It's become a "who wants it more" game where many do it yourself bands who work hard can create their own buzz. I think this isn't necessarily a bad thing though. Bands should realize that they really can get out what they put in, and if you have the talent, then there's no reason not to go where you want if you're putting in the right amount of work. Make the labels NEED the band!
Stoli: What is the coolest thing about being in Ashbury and what gets you excited for the bands future?
Ashbury: This band has the greatest chemistry within its members that I can possibly imagine. I think it starts with Brian and Jeremy being actual brothers, and the rest of us feeling the same way. We all get along great, we all have similar views of the world, and we're all loving what we're doing, and doing it all together. I think that because of that we're constantly getting better as people and as musicians. I'm excited to see who we all are a month from now as individuals and as a whole. Who knows where we'll be even a year down the road let alone ten. But the exciting part is going to be finding out :)!
Photo: Fred Morledge