Jive Records, through an arrangement with super-producer Nate "Danja" Hills newly formed label N.A.R.S. (New Age Rocks Stars) Records, has signed the hotly sought-after artist, Kevin Cossom, to the roster. Hills is a Grammy award-winning producer who has worked with many multi-platinum artists including Britney Spears, Justin Timberlake and Mariah Carey.
Peter Thea, Executive Vice President, JIVE Label Group states, "We're thrilled to take our working relationship with Danja to the next level by working with Kevin. Danja is one of the most trendsetting producers in music, and Kevin is a remarkable talent."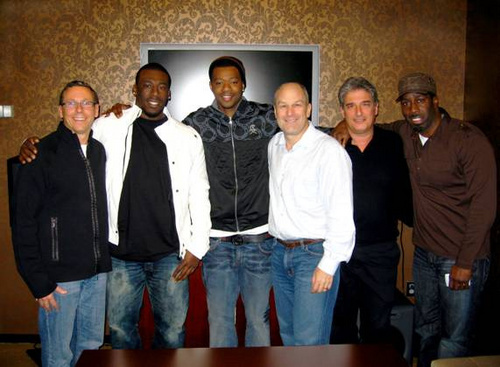 Pictured in the photo L-R Peter Thea, EVP, JIVE Label Group; Nate "Danja" Hills; Kevin Cossom; Barry Weiss, Chairman and CEO, RCA/JIVE Label Group; Tom Carrabba, EVP/General Manager, JIVE Label Group; Mark Pitts, President, Urban Music, JIVE Label Group.