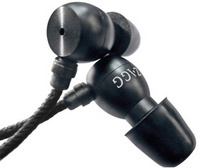 Not sure about you, but I never have enough cord on any of my earphones. When I am walking through the city or working out in the gym, I feel like my ZUNE is going to pop right out my pocket. Well, that all changed when the Z Buds earphones by ZAGG showed up ay my door.
These are not your average earphones. They have long chords that make it easy to have your MP3 player deep in your winter coat with comfort. The ear buds are great for people with large & small ears. They fit snug right in your ear and are as light as can be. You can also adjust the volume by adjusting the switch connected to the Z Buds.
I tested out the Z Buds on my computer at work and with my ZUNE. Both had a very high quality sound but not too much that you will be deaf in 20 years. The earphones are rather long in size but that is fine because you get a nice pouch to keep the Z Buds in when not in use.
It is pretty easy to determine if these are quality earphones based on sound quality, easy to use, and comfort. These ear phones surely passed the test and by the way, I am using them right now.
Review By: Mikey Frieds
[Rating: 3.5/5]