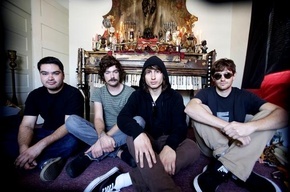 Jerry Heller, one of the founding fathers of West Coast gangster rap via Eazy E & NWA  is back at it. This time he has recruited an incredibly awesome group named, On Blast and has signed them to his, Street Life Records. On Blast has had major momentum so many of you might be familiar already. If not join us as Andy, Josh, Travis, & Tone give us the lowdown on working with Heller, coming from Long Beach, getting recognized, and so much more!
Stoli: How did the four of you come together to form On Blast?
 
Andy: It was essentially out of desperation.   Tone, who I'd known from school, owns an appliance business that took a huge blow several years ago when the owners of his building sold it out from under him.   I had been seeking out new avenues for my music for about a year, since the hip hop group I was in broke up, and wasn't really coming up with much of anything.   And Josh, who I'd become friends with through the DJ of my former project, had apparently been spleeping in his car for 6 months.   We were all kind of down and out during this time.   When I began to make more music with Tone, I introduced him to Josh, and they decided to become roomates in a small two bedroom apartment.   Although Travis came into the group later on, he instantly filled a spot that we desperately needed; a guitar player.  
Stoli: Why did you choose to call the band, On Blast?
 
Andy: When we first started recording together, we developed a few phrases when communicating to Josh in the mic booth.   "Knock it out", "chop chop!", and "sing it on blast!".   The last one was something we said when we wanted Josh to step it up a notch and put some more power in his voice.   I guess it just kind of resinated with us when we were thinking of band names.   It was something destinct and familiar within the group and became a pretty good description of our sound.        
Stoli: In what way if any, did coming out of Long Beach, CA shape your sound & attitude?
 
Andy: Honestly, Long Beach has a great music scene.   There are so many great undiscovered bands playing all different styles of music, it's pretty hard to like just one ya know?   It's the kind of place where it's completely acceptable for an indie band to open for a hip hop act at a punk rock bar.   And the people you see in the crowd are the same people you saw the night before watching a local country band. I'm not sure if Long Beach really "shaped" our sound as much as it feeds the desire to mix things up I guess.  
Josh: Yea, like who knew you could mix Stella, 7up and grenadine and get the best drink ever?! I didn't!! I learned that shit in Long Beach!!    
Stoli: At first you guys struggled a bit to get noticed. What was the big break that helped put On Blast on the map as a band with super potential with fans & the industry?
 
Josh: Well, we had developed quite a cool little fan base for ourselves in Long Beach somewhat early on; just playing the local venue circuit. And it kind of climaxed one night at one of the bigger venues there, the Vault 350, where a small mass of our more "dedicated" female audience showed up wearing damn near nothing! And they all had matching black tank tops (rags that they realy were) adorned with the word "badgirl" freshly printed in red across the front. Well…we had a song called Badgirl. So the intention and support of these girls was rad and obvious!! Including the badgirl army, we had about 300 people at that show. And that was the first show Pablito had ever seen. So I believe that was a crucial moment in our future with Streetlife. And our future with Streetlife and Jerry and Pablito has been a crucial step towards any real potential within a cutthroat industry.  
 
Andy: And we're able to do things now that may have taken years of busting our asses to try and achieve.              
Stoli: You are signed to Streetlife Records which is owned by Pablito Vasquez and Jerry Heller. Did it concern you at all not being an urban act and how did that deal come to be?
 
Andy: Did it consern us? Not at all.   I think it's brilliant of Jerry to get on board with us and continue his legacy of doing the unthinkable and the unexpected in the music industry.   I mean, if you look at what's going on in hip hop these days…need I say more?   It's a perfect time to move on and try something different.          
Josh: And as far as the deal coming to be, I guess we just fit the description of what Jerry and Pablito had been looking for. Jerry's done it all. Not just hip hop. And wheather or not we can be deemed an "urban" act, we still certainly reside on a street-level as far as living is conscerned. We don't live lavishly. We barely make ends-meet. We're super grateful Jerry and Pablito have stepped in. They've made possible what we could never afford. Our album sounds RAD!  
Stoli: When you are recording & writing music does the whole band participate or certain members?
 
Andy: It's always different.   Any combination of song writing you can think of, we've done.   I mean, it's all about the process.   It's really plays a big part in our overall sound and style(s), and it's the most enjoyable part of this whole music thing.              
 
Travis: Actually, Jerry Heller writes all the songs.                    
Stoli: You guys are really working the California coast heavy with your live shows. Is that your strategy and when will the east coast get a taste of On Blast?
 
Tone: It was a strategy learned by our good friend Miguel from Skunk Records.   He told us to play as much as possible outside of Long Beach, since we're known fairly well in our home city.   So we try to play anywhere within a 5 hour radius.   We were well recieved at Bottom of the Hill in San Francisco.   It's a good feeling going outside of our comfort zone and people still feel the music.   As far as the east coast, we should be hitting it by the end of this year.  
Stoli: Working with a legend like Jerry Heller must be amazing. What is one of the most valauble lesson you have learned from him thus far?
 
Andy: I must say that working with a guy that's played such a big role in the music I grew up to, music that I loved but had to hide from my parents, and the music that has now become a large part of who I am musically is insane!   He's taught me that if I want to become one of these bands for the next generation, it takes patience.   A lot of bands in our situation might get antsy and create their own hurdles in the long run.   You just gotta trust a guy who know's what he's talking about, and has proven himself many times over.            
Stoli: With the world's economy in big trouble. Do you feel that music is a valuable escape for the people?
 
Josh: Sure. I was told that in the Great Depression, Hollywood had some sort of "Golden Age" boom, in which people would flock to the movie theatres for some sort of romantic escap-ism.   I'm not sure if "romantic" would necessarily describe our music, but in that era a new darkness emerged in motion pictures as well.   And our music is certainly dark.   So maybe people will want to escape with us too?…fingers crossed.      
Stoli: How has life changed before & after signing with Street Life Records?
 
Tone: Before we signed we had a pretty good momentum going and things were moving good.   After we signed, it plugged us into this superpower of energy.   All of a sudden people were instantly giving us respect.   Jerry and Pabs hooked us up with major resources and connections we only dream of.   We had most of the songs on our album completed already, but they got us in to a top notch recording studio (EDGE), where Mark and Adriano made our songs sound like the transition between coals to diamonds.   We had a world calss string composer write for 5 of our songs and the best mastering engineer in the biz, Brian "Big Bass" Gardner, master it.   It sounds mind blowing!   Pablito is the type of guy who wants the best everything, so he never skimps on the quality of people that work with us.   And Jerry's experience and guidance is unparallel!        
Stoli: Where can readers learn more about On Blast and whats up for the rest of 2009?
 
Tone: Keep in touch through myspace and check out our article in the next issue of YRB magazine.