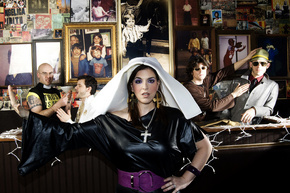 Freshly exhumed from their Bridgeport, Connecticut recording studio, Saint Bernadette are ready to cure lepers and cleanse mortal sinners with 'Word To The Lourdes' through Exotic Recordings on April 14.  
A six-song EP inspired by lead singer Meredith DiMenna's visions of heartbreak, and aimed to spread the gospel of the redemptive power of rock.
The title alludes to the shrine in France where the band's namesake first saw the Virgin Mary, as well as to the present-day Madonna's actual daughter and her metaphorical daughters, who, like Meredith, grew up with the former Madonna Louise Veronica Ciccone as a role model.
Listen to "Already Gone":