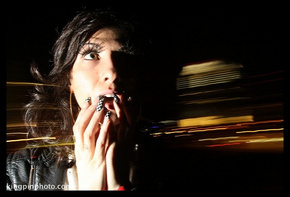 The list of artists that can sing, rap, write amazing pop songs and perform them with irresistible charisma is small. The list of female performers that can do all of that is even smaller and Amanda Blank is about to rise to the top of that list with her debut album, I Love You.
Downtown Records CEO, Josh Deutsch on Amanda:   "It's amazing to me what Amanda Blank can do. Amanda's Downtown debut is an incredible collection of songs that showcase her unique singing and rapping styles, blending hip hop, pop, punk and electronic influences in a totally original way. From racy rap records to deeply moving electro-pop songs to records that channel Blondie and the Beasties at the same time, "I Love You" is a post-modern, subversive pop masterpiece."
'I Love You' drops July 14th on Downtown Records.