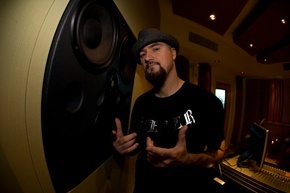 If you have been tapped into the hip hop scene for the past 5 years you will have certainly heard many hits produced by Jim Jonsin. Recently Jim has resurrected Slim Thug with the smash hit, "I Run."
Jim Jonsin is busier than ever these days. He is a full time producer, label owner, A&R, website entrepreneur, father, and so much more. Jim Jonsin is responsible for such hits as "Lets Go" by Trick Daddy, "Dammit Man" by Pitbull, "Lollipop" by Lil Wayne, "Your Body" by Pretty Ricky, "Unpredictable" by Jamie Foxx, & so much more!
We got to talk to Jim while he was on the move in Boca Raton, FL. He had some business to handle before going into the studio that night with Wyclef. Jim did not hold back at all talking about Slim Thug, egos, making hits, selecting talent and much more. Also check out his new site, www.beatbakery.com!
SKOPE TV PHONER WITH JIM JONSIN PT 1  
[youtube LtmZqLa7meI]
SKOPE TV PHONER WITH JIM JONSIN PT 2
[youtube chb6s87Zd44]
SKOPE TV PHONER WITH JIM JONSIN PT 3
[youtube yuV2USNFW3c nolink]