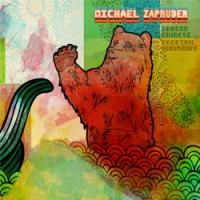 With a title of an album like this, I was thinking that this record was going to be some different piece of work.   My hunches were correct as I played Zapruder's latest release.   The artist brings folk and pop, but mixes in a world of sound around it.   The music can best be described as draggy and offsetting jam packed with creativity.   This record invites the listener into a world of perplexity filled with complex imagery.  
I couldn't help but notice that the first two words of the album make up my favorite take-out, Chinese restaurant.   So, in my world Dragon Chinese Cocktail Horoscope would mean eating mouth-watering food from Dragon, later sipping a cocktail and all the while being a strong Gemini.   But….the actual essence of the record is a world focused on the awake state and sleeping mode.   The reality of life both in a living state of mind and a dreamscape mode with everything else in between the lines is the premise here.  
Michael Zapruder and Scott Solter recorded and mixed this record in a short, two-week span.   This was all done in a small San Fran telephone studio and both men spun out 25 songs during the recording session.   11 songs made the cut and I would say the short amount of production that went into this project had no effect on the overall quality.   The finished product is an innovative, oddly-sounding and eclectic album that offers tons of unique vibes.
I did pick up on a special ingredient on "Ads For Feelings" and that is that Michael Zapruder has a very similar style and approach to that of the singer, Beck.   Quite ironic and not sure if done on purpose, but man I am hearing Beck all the way on this track.   "Harbor Saints" offers up a simple, yet tremendously meaningful tone.   Zapruder's approach is simple, but sang with so much purpose of meaning.   "Bang on a Drum" actually includes a western-like theme layered in the background, which really floored me.   There is also a short, little percussive performance that doesn't last long, but leaves a huge impact on the listener.   Goes from cool, erratic drumming and then fades back into the signature Zapruder style of Draggy Lyrical Adventures.   The record ends on a high, low and in-the-middle-of-the-road note with "Experimental Film".   Here Michael Zapruder is messing with sounds and the effects they have on the senses of hearing.   Overall, I hear a very chill sound with trippy sensations mixed in and I now see the full picture.   Zapruder and Dragon Chinese Cocktail Horoscope are messing with people's senses here and creating a whole new scene of music.   Out there and weird at times, but also extremely sophisticated and witty= My favorite Chinese restaurant served up with a cocktail and always a Gemini 4 life.   You need to really drink this one in all the way and will be intrigued to see what you get out of it.
Michael Zapruder "Ads For Feelings" MP3:
For more on Michael Zapruder and Dragon Chinese Cocktail Horoscope, SKOPE out www.sidecho.com.
By Jimmy Rae
[Rating: 3/5]