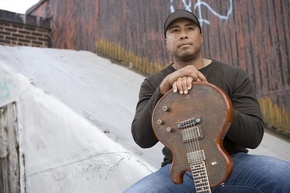 Critically acclaimed guitarist/songwriter and famed NY Yankees star BERNIE WILLIAMS has signed a recording contract with REFORM RECORDS for his sophomore album MOVING FORWARD   set for release on April 14.
The Puerto Rico native and five-time All Star is a classically-trained musician who developed his love for playing guitar alongside baseball, while listening to salsa, merengue and 80's rock.
BERNIE WILLIAMS "Take Me Out to the Ballgame" – WINDOWS MEDIA AUDIO:
MOVING FORWARD embraces those early influences, while also reflecting a unique mixture of classical and jazz guitar topped-off with additional Latin rhythms. In conjunction with the album's release, Williams will give an April 18 concert (featuring very special guest artists) at New York's Nokia Theatre Tickets go on sale December 6 at 12 noon via TicketMaster and the Nokia Box Office.