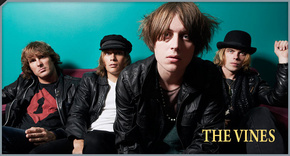 It was the cover of Rolling Stone, on September 19, 2002, that first introduced the Vines to America. "Meet the Vines," it announced. "Rock is Back."
Six years later, the same thing could still be said. In an age of synths, ornate string arrangements, and electronic embellishments, the Vines continue to play straight-forward, no frills rock & roll on Melodia, their fourth full-length, which comes out March 24.
Download "Get Out" off 'Melodia':
Singer and guitarist Craig Nicholls snarls and scowls his way through tracks like "Braindead," "Scream," and "Get Out," the hook-driven opener, like only a man who's known the crowd-fueled, fist-pumping energy of a packed concert hall can. These are songs that ignite, full of the unabashedly snotty garage-rock-meets-post-grunge glory that sent the Vines' stunning debut, Highly Evolved, rocketing up the charts.