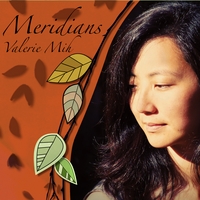 Valerie Mih is an artist who likes to take her work to another level.   As a piano player, Mih is blending styles such as: classical, jazz and ambient.   This pianist's objective is to literally heal people through her music.   The powerful force of healing is dear to Valerie and she wants the listeners to have their own enlightening experiences.   Meridians will take you on a wonderful journey full of bright ambience, atmospheric elements along with a sense of mystery and wonder.
Growing up in Pullman, Washington, Mih is a student of Buddhist meditation, Qi gong and Reiki.   Energy of the mind, body and spirit are incorporated into these practices in which meditation is a key factor.   This meditative state of mind is quite evident on Meridians due to the tranquil space Mih conveys on this record.   Besides music, Valerie Mih is also an accomplished animator and filmmaker and has interest in holistic therapies as well.
What is being portrayed on this album is simply a world full of soothing soundscapes that puts the listener in a state of relaxation.   Mih's goal is to put each and every person at peace of mind by leaving all their worries/problems at the door.   Slip on the CD, push play and enter CHILL MODE now.   THE ANSWER: To have the most enjoyable, stress-free and soothing experience while eliminating all distractions.  
The opening track invites you into Mih's peaceful world of melodies by way of her piano and accordion accompaniment.   The piano is played with such power and emotion to where the notes seem to pour out effortlessly.   The overall effect of "Meridians" is that feeling of being let loose and escaping reality.   "Little One" offers a light and somber quality while "Interwoven" plays off a sense of anticipation of what's to come; very on-edge to almost frantic-like.   And then on "Autumn", you actually can picture fall and leaves falling by the way Valerie hits those keys.
Tremendous PLAYING, terrific ARRANGEMENTS and tranquil ENVIRONMENT are all distinctive qualities of this colorful piece of work.   Music, Art and Meditation all wrapped up into one neat little package called Meridians.   For more on Valerie Mih and her latest creation, SKOPE out www.myspace.com/valeriemih.
By Jimmy Rae
[Rating: 4.5/5]