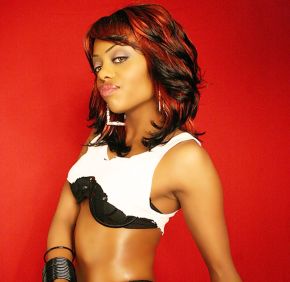 My good friends over at www.supastarz.net hooked me up on a very interesting & appealing interview subject. In an attempt to keep things fresh & sexy over here at 'Skoped Out' I decided it was time to interview Premiere a.k.a. "1st Round Draft Pick." Premiere is a music lover and she has appeared in various videos as well. She is not shy and gets right to the point, so lets get to it!
Premiere: Hello Skope!!! How's everyone doing? My name is Premiere and I'm a Dallas, TX based model. My ethnic background is African American / Cuban / Creole.
 
Stoli: You are one fine-ass woman. What is your daily routine to keep your body in such nice shape?
Premiere: LOL! Thank you! But why can't I just be a fine woman, instead of a "fine-ass woman"? LOL! Anyway, It's Natural…. I've never ever had a steady work-out schedule. But when I feel I've put on weight, or if I want to loose some weight, or just tone up, I run three times a week.
 
Stoli: What part of your body are you most proud of & why?
Premiere: My stomache, in my case it makes a BIG difference because I'm small up top!
 
Stoli: When you are driving in your car, what are your favorite songs to listen to?
Premiere: Keisha Cole – "Sent from Heaven", T.I., Young Dro, & Gospel  
 
Stoli: What traits do you look for in a man who wants to take you out?
Premiere: Stability, Maturity, Geniune Personality
 
Stoli: Are you in a monogamous relationship and do you find it hard to date one person in your line of work?
Premiere: Monogamous relationship -Yes… Do I find it hard to date one person in my line of work – No.
 
Stoli: When you go out to the club, what do you do to prepare for the night out?
Premiere: Get up early to do some shopping, and sleep a bit before I head out.
 
Stoli: Do you find that on a video set the artists try to pigeonhold you as "easy" and how do you deal with that?
Premiere: They can think what they want, but it doesn't mean they're getting ME! LOL!
 
Stoli: If you had two artists that you could star in their video who would that be?
Premiere: Ne-Yo & Mary J. Blige
 
Stoli: When a guy wants to buy you a drink at the bar, what do you prefer to drink?
Premiere: Water or Long Island Ice Tea
 
Stoli: When you are modeling is there anything that you will not do or are you open minded?
Premiere: I won't do a full nude shoot with no purpose. It would have to be artistic, and it has to have a specific purpose.
 
Stoli: What advice can you give other sexy women looking to model?
Premiere: To make sure their heart and dedication is there, it's a Drive baby!  
 
Stoli: What can your fans expect to see you for the rest of 2009 & beyond?
Premiere: Magazines, Movies, & Music
Name: Premiere – a.k.a. "1st Round Draft Pick"
Contact: premiere@supastarz.net
Height: 5'7″
Weight: 139 lb
Measurements: 32″-22″-48″
Dress Size: 5
Shoe Size: 8