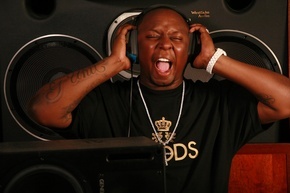 Sha Money XL is a powerhouse in the music business. It was only a few years ago that 50 Cent exploded on the music scene and that also in turn launched the career of his friend & business partner, Sha Money XL. The two would go on to turn G-Unit into a globally recognized brand and multi-million dollar business enterprise.
These days Sha Money XL is still doing big things. He is no longer running the day to day at G Unit but his loyalty is still with 50 Cent. Sha is the CEO of his management firm, Money Management Group. He has overseen careers of artists from Young Buck, 50 Cent, Jake One, Lloyd Banks, and many more.
We catch Sha while busy making arrangements for his third annual 'One Stop Shop – Producers Conference.'The conference takes place in Phoenix, AZ at the Hyatt Regency. This year the conference is set for May 9th & 10th. The basis of the conference is to fulfill the career needs for emerging and talented producers. Attendees will get to network & collaborate with some of the biggest names in hip hop.
If you know Sha Money, you know that he never bites his tongue. We get to talk candidly  with Sha about discovering 50 Cent, G Unit, the One Stop Shop conference, loyalty, and so much more!
SKOPE TV PHONER WITH SHA MONEY XL PT 1
[youtube c2Rcpm_LqxU nolink]
SKOPE TV PHONER WITH SHA MONEY XL PT 2
[youtube KXD7Fzu0b4U nolink]
SKOPE TV PHONER WITH SHA MONEY XL PT 3
[youtube 07KhvI2jyC4 nolink]