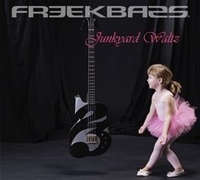 Junkyard Waltz is four years in the making for Freekbass and company.   This highly anticipated album serves up funk in a big way brought to you by the Dr. Funkenstein himself, FREEK—–BASS.   The record also includes an array of special guests such as: Bootsy Collins, Bernie Worrell of P-Funk & Talking Heads, Buckethead, Mike Gordon of Phish, Jen Durkin of Rhythm Devils & Deep Banana Blackout, Gary "Mudbone" Cooper of P-Funk, vocals from Bootzilla recording artists Candice Cheatham and D-Jizzle and rap artists B-Czar & Piakhan.   Rounding out the bunch are Freekbass' go-to guys and touring crew, Chip Wilson on drums and T-Sly on guitar.   And of course, the man behind it all, Freekbass, is on his funky, fresh bass.
Freekbass opens things up with "Get It Go", which is just funk-nasty right off the bat!   Freekbass even tests out his rapping skills when he spills a little rhyme of his own during the song.   Very cool, very catchy and very funky flavor on track one.   Next up is "Big Bang Bionic", which is exactly how it sounds–Big and Bangin' sound!   Major hip-hop influence is heard on this one with turntables spinning it out in the background.   "Higher" offers just a REAL FUNK GROOVE that just hits the joints of your funky bones.   "Pretty Heavy Balance" is a joint that seems to be "jumpin' and jivin'" from all angles.   Bootsy Collins is featured on drums, bass, turntable effects and sequencing and honestly the overall sound is completely right on!   Tracks seven and nine offer different tastes with more of a black cloud-effect surrounding the beat.   Freekbass decided to incorporate a darker element of tone on "X-Ray Vision" and "Critical Condition" that sounded a bit mysterious and eerie.   "Critical Condition" even goes so far as to include a carnival/circus-like theme that resonates throughout the song.   This off-setting sense of gloom mixed with funk makes Freekbass look like a diversified artist that's not afraid to experiment and take chances.   The record ends with a remake of Golden Earring's, "Twilight Zone".   Playing off the original, Freekbass adds more of a slower-paced funk tempo but with a hell of a lot more BASS!   Golden Earring sang, "When the bullet hits the bone" but on this rendition I say "When the freeky-bass hits the chords".  
Executive produced by Bootsy Collins and produced by Tobe "Tobotius" Donohue & Freekbass, Junkyard Waltz is an instant classic!   Freekbass proves that he is one bad…. "shut your mouth!"…..I'm just talkin' about Freekbass people.   Freekbass and his trusty bass go hand in hand just like Superman and the "S" on his chest; they are one in the same.   Freekbass also brings some different styles to the table like hip-hop elements along with darker layers.   But, in the end the Funk bass extraordinaire always brings the funk and Junkyard Waltz is no different.  
For more on Freekbass and his latest record, SKOPE out www.freekbass.com.
By Jimmy Rae
[Rating: 4.5/5]