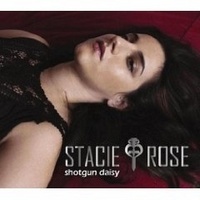 Don't let the title of Stacie Rose's newest release confuse you. Shotgun Daisy is somewhat of a misnomer bringing expectations of cowboys, outlaws, folky southern rock, something with grit. But what you'll find here is a collection of love songs that have been polished and over produced to a gritless gleam.
 
Many of the tracks are basic, bland pop, the sort of easily ignored Top 40 fare. The lyrics alternate between such grating and sappy phrases as "Renaissance of love" and "I'm not listening" repeated ad nauseam. The songs that aren't annoying are often just boring.
 
But this isn't something to necessarily blame on Stacie Rose. For all the shortcomings there is quite a bit of promise shining through on this album. Songs like "Mr. & Mrs. Happily Ever After" cut away some of the production fat in favor of short, catchy hooks that are Beatles-esque in nature.
Rose is often at her best in the more experimental, albeit brief, moments of Shotgun Daisy, flirting with country on the Shawn Mullins featured track, "Run Out". "December" is a particularly inspired song complete with brooding lyrics and mournful horns. The closing songs of the album begin to explore a more techno-inspired approach, which may ultimately be a good move for Rose, but is simply too little too late to rescue Shotgun Daisy from its general mediocrity.
Rose shows that she is a strong and talented singer, vocally in league with the likes of Aimee Mann. However, she still lacks the right songs to really compliment her talent. If this album is any indication, it seems like Rose may be beginning to feel out the right musical niche for her. You may want to avoid Shotgun Daisy, but definitely keep an eye on Stacie Rose.
Review By: Dave Feltman
[Rating: 2/5]