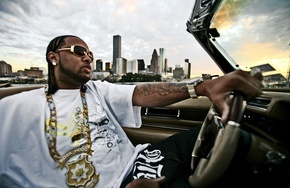 As you may have noticed already, Slim Thug is back and in a major way. Slim Thug has got a new album, label, promo tour, mixtape, and hit single to boot. We were fortunate to get some time to talk with "The Boss of All Bosses."
On March 24th Slim Thug will release his new album, 'Boss Of All Bosses' coming out on E1 Records aka Koch Records. As Slim Thug's single, the Jim Jonsin produced "I Run", approaches 2,000 spins and counting and his video enjoys national rotation on MTV2 and BET, the "boss of all bosses" is getting ready to hit the road on a 24 city promo tour, dropping another bangin' mixtape along the way.
We got to talk with Slim Thug in two parts. We talk about the new album, working with Jim Jonsin, street cred, dealing with labels, and so much more!
SKOPE TV PHONER WITH SLIM THUG PT 1
[youtube 6ujGK5G9u-k nolink]
SKOPE TV PHONER WITH SLIM THUG PT 2
[youtube TzBdNCRn-SQ nolink]