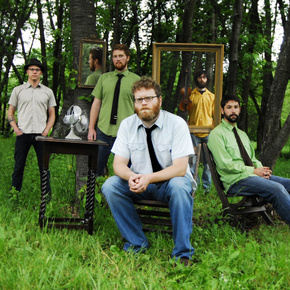 Not enough folks outside of the Pacific Northwest know about one of the region's greatest musical gems, a band called WEINLAND.
The band's new record, 'Breaks In The Sun', is coming out April 21st on CD and digital from Badman Recording Co. (My Morning Jacket, Hayden, The Innocence Mission, Mark Kozelek) and on vinyl 5/5 from Jealous Butcher Records (M.Ward, The Decemberists, Laura Veirs).
It's uncommon for a contemporary artist to create a timeless album, an album that is both surprising and comforting. Yet after only a few listens to the new record from WEINLAND, a soon to be well known quintet from Portland, Oregon, you'll know it's still possible.
"Sunken Eyes" MP3:
"I'm Sure It Helps" MP3:
WEINLAND ON TOUR:
03.04.09 – Portland, OR @ Mississippi Studios
03.11.09 – Tacoma, WA @ Pacific Lutheran University (the cave)
04.15.09 – Bend, OR @ Old St. Francis School
04.16.09 – Portland, OR @ Kennedy School
04.17.09 – Forest Grove, OR @ Grand Lodge
04.18.09 – Gearhart, OR @ Sand Trap
04.21.09 – Centralia, WA @ Olympic Club
04.23.09 – Troutdale, OR @ Edgefield
04.25.09 – McMinnville, OR @ Hotel Oregon