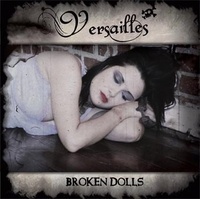 On the cover, you see an extremely pale-skinned or better yet ghostly-looking young female who just seems lost in herself.   A very depressing and saddening visual presence right off the bat from the artist known as Versailles.   Born Dianna Marie St. Hilaire, she was raised in Albuquerque, New Mexico and now is bringing pieces of her childhood back in full circle.   Only twist here is that Versailles speaks of not happy memories growing up, but of disturbingly painful recollections.  
Singer/Songwriter Versailles also plays guitar and keyboards on Broken Dolls proving her versatility as an artist.   The music itself can best be described as gothic/alt-rock with a splash of pop.   There are elements of darkness and despair feeding into the gothic side, but then an amazingly sweet-sounding voice bursts out of nowhere exhibiting that soft, poppy sensation.   Truly unique when you can add such anguish, torment and trauma displayed by Versailles' vocals, but sang almost angelically.   You really do hear a true sense of good vs. evil here.   Unfortunately, this was reality and an ongoing battle for this troubled, young soul.   Her emptiness inside is portrayed in such a dramatic way to where the listener really feels for this individual by the end of the record.   You feel her hurt, you feel her pain, you feel it ALL—but not by an angry, hateful voice as one might assume.  
The album starts off with a creepy piano melody mixed in with dark lyrics that seems to be almost haunting at times.   Her ghostly appearance on the cover seems to mesh right in with the scary-sounding vibe on the opening song, "Legion".   Track four, "Once", exhibits an unorthodox pattern to where it almost seemed like Versailles was literally falling by way of her styled performance.   The title track, "Broken Dolls", invites the audience into the life of Dianna Marie St. Hilaire and how she actually questions her own self worth and well-being.—"Where do broken dolls go??"   "10%" and "Run Away" offer a different taste of cool sound effects and discothequeish sensations.  
Overall, this record offers a lot of heartache and trauma all experienced by the artist formerly known as Dianna Marie St. Hilaire and now depicted as Versailles.   Maybe this woman has found out more about the real girl inside or perhaps she is still searching high and low.   For more on Versailles and her hauntingly truthful record, Broken Dolls, SKOPE out http://versailles.ro.  
By Jimmy Rae
[Rating: 2.5/5]