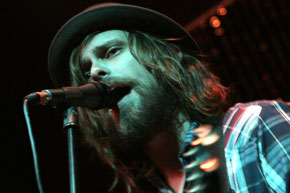 John Ralston is a local success story. The singer/songwriter from Lake Worth, Florida has received national attention with his song crafting talents. Vagrant Records has been his home for the last couple years. Now two LPs and an EP into a promising career of lyrically poetic and introspective indie rock Ralston has finely tuned his abilities.
Still the creative success hasn't brought him fortune – he still paints houses to pay the bills. But he is an artist that carries on for the love of music and also because he couldn't have it any other way. Life can be hard for an indie musician but all things indicate a bright and prosperous future for this prolific artist.
Ralston has been  playing some local gigs recently, which has given his local fans reason to be happy. Two weeks ago he played Respectable Street. Last night he played at City Limits in Delray Beach, FL. City Limits is a recently renovated and well-appointed venue with a sizable stage, great sound, and an inviting ambience. The walls are clean brick and the bars that straddle both sides of the club are sophisticated and modern with lit displays of top shelf bottles of liquor. Elevated and to the side of the stage are large screen televisions that display the action on stage.
This night's performance was a delight to the ears. Ralston and band offered up a rich and layered wall of sound. Two guitarists, slide guitar, percussion, bass and violin combined to add a varied texture of expressive instrumentation. This was a perfect backdrop to Ralston's poignant lyrics. Donning a brown fedora hat, flannel shirt and a full beard he inhabited the archetypical image of the americana songsmith.   His introspective lyrics pulled at the heartstrings and you couldn't help but feel a little voyeuristic; his music is an intimate window into his personal experience. It is this intimate quality that is so captivating when you watch him perform.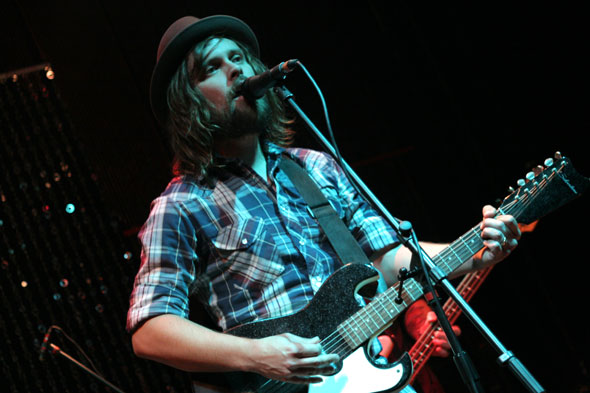 The band played an exuberant and powerful set. Over the past couple years the group has matured as performers. Now a tightly knit group of virtuoso musicians Ralston's Invisible People are making some of the best music coming out of South Florida. The sole female of the group is violinist Susan Sherouse. As her blond hair glowed in the stage lights her slim frame worked passionately on violin.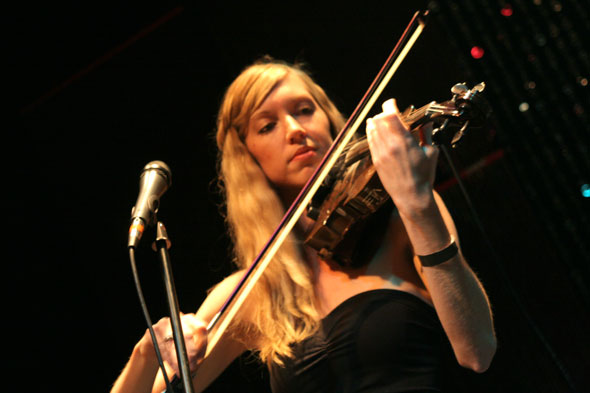 Her staccato playing added emphasis and drama to the overall composition – floating and twittering lighter than the edgier guitar sounds. At times they were raucous and loud and all played aggressively to a cacophonous conclusion after dramatic buildups. The cadence and sleepy vocals on "Room With a View" is reminiscent of Radiohead's "Subterranean Homesick Alien" with Sherouse's violin strums replacing the spacey synthesizers found on that track.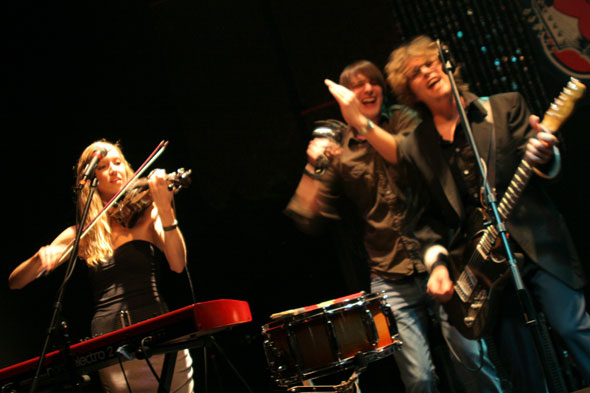 Ralston dedicated "Fragile", a song off Sorry Vampire, to two individuals that helped with the album. It began as several voices harmonizing in unison. Sherouse moved to the xylophone on this one and the bassist, Dan Bonebrake, stepped up front to lend his voice to backup. They ended their set with "Jenny With The Dark Long Hair". Before exiting the stage Ralston gave his thanks to the owners of City Limits and added, "I always feel welcome here". As always Ralston showed his gratitude and humility – a truly down to earth musician with an intimate approach to music that draws you in and makes you feel right at home.
Words and Photos: Shaun Flagg