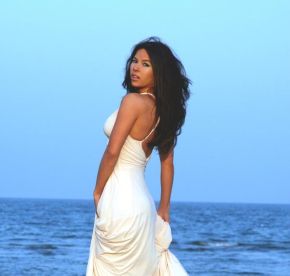 Seven NAMMY'S (Native American Music Awards) and one 2007 Grammy Award Nominee, this young singer is off to a strong start!   Being of Native American descent, Jana has proved she is a strong face for her culture.   Mashonee also heads up her own non-profit organization, Jana's Kids Foundation, to help Native American and Aboriginal youth achieve their goals.  
Jana Mashonee is one genuine person and her new record, New Moon Born, offers that same quality.   R&B/Soul/Ballad/Pop can be heard on the new album and Mashonee sings it all with such honest conviction.   I had a chance to ask this beautiful person, inside and out, some questions and would like to share with you; A glimpse into the Life of Jana Mashonee.  
J. Rae:   I see your Native American background is very dear to your heart, love to hear more about your family history/family tree?   And don't feel bad to go in depth on this topic–more the better!  
Jana Mashonee: My Native heritage is the Lumbee Nation from North Carolina (over 40,000 members) and Tuscarora.   Most of my family lives in a small community in Robeson County (eastern part of NC) called Pembroke.   Though I grew up in other places in North Carolina and in Maryland, I was born in Robeson County and will always call that "home."   We have a large family, and the Lumbees are a very tight nit community where you are either related to someone else, or you know everyone else!   We participate (like many other Native tribes do) in Pow Wows, healing ceremonies, etc. and it's our way of coming together in celebration of our culture and of our people.   Our rich history is passed down through oral tradition from our elders and the storytellers of our tribe. The only thing is, our tribe never lived in tipis and never hunted for buffalo!
J. Rae:   I also see that working with and helping kids is very important to you, can you see yourself involved with that the rest of your life?   And would you ever replace music to strictly commit all of your time toward working with children?
Jana Mashonee: Jana's Kids is a non-profit organization for Native American youth I started a few years ago that addresses issues of cultural pride, education, drug awareness, and overall positive motivation to kids all across America.   I've traveled around the country speaking to Native kids and it has enriched my life so much to hear what they have to say.   I offer scholarships for college for junior high/high school students in the fields of artistic, academic and athletic – My "triple A" concept – I've been able to raise enough money to offer two Native kids scholarships and hope to give out more.   I can see myself continuing to help in any way I can no matter what I'm doing in my career.  
         
J. Rae: Can I ask if there is a distinct meaning to your last name?
 
Jana Mashonee: Mashonee is my Native name given to me from my family.   It is from the Siouan language, which basically means "money belt!"   It was a type of belt that the Natives used in trade with the European settlers.   I know it's not like "Sings like a bird" or anything, but I guess it's not bad being money! Ha!
J. Rae:   Your new album, New Moon Born, seems to go in a different direction than your past records–was that the intent and if so for what purpose?
Jana Mashonee: New Moon Born is about rebirth and renewal -it is a metaphor about the cycle of life, a traditional Native theme for the circle of life.   This album represents a new "phase" in my life and a new exciting direction for me. It's my most personal record to date.   It reflects many aspects of my life and what I've seen and experienced in other people's lives. I never like to repeat myself; therefore, I didn't want to make American Indian Story Part 2.   I also didn't want people to think that I can only make one type of music.   I believe I'm quite versatile and I'm always discovering new ways to express myself.   This album is what I've been feeling for the past year and a half.
J. Rae:   If you had to pick just ONE, what's the 1 thing you would want listeners to take away from your music?
Jana Mashonee: I would like people to feel as though they are hearing real truth in my lyrics and music, and not some phony love songs thrown together.   I sing from my heart which I know sounds cliché, but I'm honest in my delivery, even if it hurts.   I think it's important to be able to touch truth in your music.
J. Rae:   What do you personally get out of playing, performing and creating music?
Jana Mashonee: It's cathartic to create music, letting all your emotions out through song. It's invigorating to play/perform my music.   It's a total high being on stage, and I understand how we, as performers, get addicted to that and just want more and more of it; it's not so much the adulation from the audience, but when you are really doing it, you are giving your total self and being, which is overwhelming — in a good way!
J. Rae:   What style would you tag your music and can you see it going in different directions say in years to come?
Jana Mashonee: Though I'm not good at categorizing my music, I would say it's more soulful/R&B/ballady with a little bit of old school in there.   I know that's not a genre, but I haven't tended to fit in any particular mold for my entire life!   I believe every musician must evolve in some way with their music — either it be a style change, or whatever.   Yes I can see myself exploring other genres in the upcoming years — I'm open to that.
J. Rae:   Any artists past or present that you absolutely adore and cherish?   I actually heard similarities to Alicia Keys when listening to your album–what's your take on that?   Maybe you ladies can tour together or do a duet–I'll look into that for you!   Lol On a serious note though, I really think that both of you would sound great together.
Jana Mashonee: Oh snap! I love Alicia Keys — that's a great compliment — thank you!   Yes, I'm totally up for a duet with her — know her phone number? Ha!   I'm also really into (in no particular order) Stevie Wonder, Annie Lennox, Jill Scott, Keisha Cole, Jennifer Hudson, Sarah MacLachlan, Barbra Streisand..the list goes on.
J. Rae:   Any hobbies that you enjoy doing besides your music and charity?
Jana Mashonee: Well I'm really into indulging myself and anything to do with a spa or eating chocolate, I'm there! I also got into in archery as I had to learn it for my role in a movie I did.   I'm into keeping fit, playing basketball, tennis, golf, etc. and keeping up with my Malagasy Coton, Eswa!
J. Rae:   Can you name ONE hilarious moment off the top of your head that's simply unforgettable?
Jana Mashonee: There was one incident where I forgot (oops) to bring my dancers' costumes for a gig and we had to make something on the fly.   Unfortunately we didn't have enough time to go buy anything at a store so the only thing that was lying around this place was old painter's canvas…to my dancers' dismay, and my manager's delight, we figured out a way to make their costumes from this hideous canvas that was stiff and a horrible shade of beige…my dancers were mortified and would have rather danced in jeans, but my manager insisted they wear his new creation     (he whipped it up in about 30 minutes)…I felt so sorry for them but he wanted them to be in a skirts and the looks they gave me that night on stage were like daggers! Surprisingly, afterwards a few fans asked where they got there cool costumes from…not kidding!
J. Rae:   When performing live in front of an audience, what is going through your head?  
Jana Mashonee: It's an adrenaline rush to be on stage and I'm usually trying to center myself before I go onstage, so I won't be a floppy mess!   I try to make sure I connect with the audience and give 110% every time.   I also tend to completely ignore the set list and sing songs randomly as I feel usually because I'm gauging the audience's energy — my band is quite annoyed when I do this:)
J. Rae:   When coming up with lyrics, what helps you through this process?
Jana Mashonee: I'm usually inspired by my music first, then the lyrics come.   I hear a melody in my head, work it out on piano, then vibe off that to create the lyrics.   Sometimes I try to force myself to "write a song" and it just doesn't happen.   You have to be in a moment, and sometimes that moment is not convenient.  
         
J. Rae:   As an emerging artist, any good luck charms or superstitions you always stick with?
         
Jana Mashonee: I only eat brown M&Ms before I sing and it has to be the peanut kind…uh, just kidding! Ha.   No, I don't have any good luck charms or anything like that — though I think practice is the best good luck charm to have!
J. Rae:   When did you get interested in music and what sparked it?   Any of your family members involved with music?
Jana Mashonee: My father sings and was a singer and drummer in a band called "The Sparks" in the late "60s.   Very cool music! He has the best Elvis tone and vibrato!   My brother carried on the music gene by also becoming a drummer and I finally broke out of my shell when I was in junior high and started singing.   I call myself a late bloomer because I was considered in the family "the bookworm" and my brother was "the musician," so it was a while before I broke out of my shell.
J. Rae:   Who are your heroes in this big world and who or what are your inspirations in this one life?
Jana Mashonee: My family of course is my saving grace and I will always thank them and love them for supporting me and my mission in life with music.   There are so many heroes and leaders that have made a difference in this world, large or small deed —the list is too great.   I believe anyone who can commit a selfless act for someone else or the greater good is an inspiration in my book.
J. Rae:   What's next for Jana Mashonee and not just musician-wise, but also as a genuine person representing her Native American heritage?
Jana Mashonee: I continue to represent Native people the best that I know how, and I will always wear my heritage proud on my sleeve.   I just hope to be a positive representative for Natives and let others know that we are a living people and not just people of the past.
J. Rae:   If you had to pick just ONE word to describe yourself, what would that one word be and why?  
Jana Mashonee: Compassionate — I tend to have a soft heart for some things and I often think about what it's like to be on the other side.   If there's something deeply disconcerting to me, I want to try to help in any way I can.
Jana Mashonee – "Solid Ground"
[youtube asYjgU0eqag nolink]
J. Rae:   I can see you want to make a difference when it comes to your roots and when it comes to the lives of kids, which is fantastic but are there any other issues in this crazy world you'd want to tackle if you could?
Jana Mashonee: I really love animals, especially dogs, and I would love to be able to impact others enough to help eliminate puppy mills.   Anything concerning animal rights I am passionate about and want to become more involved with.
J. Rae:   With the struggling economy and ongoing problems happening all around the globe, what can you say to encourage people to stay strong?
Jana Mashonee: I think if people focus their energies on having healthy mind, body, and spirit instead of worrying about the material things they may be sacrificing, this will make us less concerned about what we don't have.   This means strengthening your existing relationships in life and taking care of your health – things that I believe are more important.
J. Rae:   Sky's the limit for your music potential, but what all do you want to do as a human being on this Earth?
Jana Mashonee: I just want to make a positive impact on this earth and contribute something that someone else thinks is worthy and makes them smile.
For more on Jana Mashonee, SKOPE out www.janamashonee.com.
By Jimmy Rae