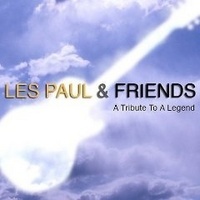 Four years ago, Bob Cutarella and Fran Cathcart produced an album to honor guitar legend Les Paul's 90th   birthday. That album, Les Paul & Friends: American Made World Played, featured Eric Clapton, Buddy Guy, Sam Cooke, Steve Miller, and many others, playing along with Paul. The recording won two Grammys in 2006. Cutarella and Cathcart echoed that idea in their most recent venture, Les Paul & Friends: A Tribute to a Legend.  
Though this album was designed to honor Les Paul, it actually pays tribute to session guitarist Hiram Bullock, who died before this album was released. Bullock is featured on several tracks.  
Being a tribute album, though, this album doesn't just honor the work of Les Paul, it really is a tribute to the modern electric guitar. A number of outstanding players like Bullock match their chops with Les Paul who plays on seven of the ten cuts.
The three where Paul is missing are odd because they are instrumentals where one would expect Paul to contribute.   "Yocalise," a New Age, Spanish-influenced rendering by Slash, is a simple guitar, bass, drums, and keys number that lets Slash's guitar shine. "How Long" features lead guitar work by Jeff Golub with backup by Bullock. The last cut, "Great Hall of Fame," is the third track sans Paul that features Richie Sambora, the lead guitarist for Bon Jovi, on vocals and guitar, in a country/rock anthem with gospel overtones that chronicles the hardships of life on the road and why musicians keep playing.
Besides guitar work, Les Paul & Friends: A Tribute to a Legend, contains strong vocals. The initial cut, Joe Bonamassa's "The Good Luck You're Having," sets a standard for this album. Handling the vocal lead and contributing background vocals, Bonamassa shares guitar work with Bullock and Les Paul. Bullock's bluesy number, "The Walls Came Tumbling Down," follows with Bullock's strong blues wail and his and Paul's guitars. Joan Osborne's rendition of "I Don't Want to Be with Nobody But You" is a lovely work with Bullock and Paul adding their guitar signatures. Equally impressive is Goo Goo Doll frontman Johnny Rzeznik's rendering of U2's "All I Want Is You." features Rzeznik's guitar, Paul's,     Peter Frampton's. Then, there is Lisa Fischer's funky, reggae-tinged version of "Slippin' into Darkness." This organ and drum-laden tune is underlined by guitar work by Paul, Bullock, and Fran Cathcart.   Simply Red's frontman Mick Hucknall adds a seductive blues note on "I Love You More Than You'll Ever Know." Guitar work here is done by Paul, Joe Pery, Kenny Olson, and Bullock. The saxophone and organ touches add an intenseness to the cut.
The funk/rock instrumental,"69 Freedom Special," from Les Paul & Friends: American Made World Played, is reprised here with Bullock and Paul joined on guitars by Barry Goldstein. Arranged with a strong four-piece horn section by Ken Cummings and Greg Mathieson's organ work, the cut flat out rocks.
Les Paul & Friends: A Tribute to a Legend offers a unique look at modern guitar stylings inspired by Les Paul.
Review by Janie Franz
[Rating: 4.5/5]