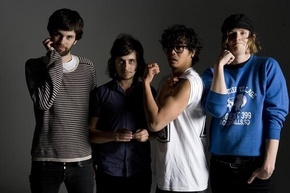 The Temper Trap entered Melbourne's Sing Sing Studios to record their much anticipated debut album. Approaching the album equipped with a series of epic new tracks, wild dreams and bundles of nervous energy.
Listen to Science of Fear:
An arrangement of atmospheric grooves, crowned by the vocal powers of singer Dougie, who's captivating voice and songwriting skills gained the worthy and enthusiastic attention of revered UK producer named Jim Abbiss (Arctic Monkeys, Adele, U.N.K.L.E, Bjork) prompting the band to work with him on their soon to be release debut album.
The Temper Trap
March 16: New York at the Mercury Lounge…9:00 PM
March 23: Los Angeles at Spaceland…10:00 PM