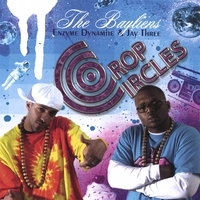 'Take me to your dealer'…"The Bayliens have landed" and they are making [Chronic] 'Crop Circles'.   The Bayliens released their first full length album 'Crop Circles' on LivenFire Records in 2007.
There have been several Baylien sightings in California in recent months.   January in Anaheim, Bayliens were spotted behind a cloud of smoke performing with B-Real of Cypress Hill at the House of Blues, other recent sightings include Bayliens at Wild 94.9 Jam featuring Lil Wayne at the HP Pavilion in San Jose, and with Living Legends in different places around the western US.
The latest in a long line of talent, the Bayliens are a hip-hop crew based out of the Bay Area in Northern California.   You may know them from their radio hit 'Bubble Gum' , but 'Crop Circles' brings a mix of styles together, from dirty south to electro with some pop thrown in for good luck.   The Bayliens lay down a style all their own, with a bit of sound for everybody.   Never shy about getting' high, these chronic croppers only smoke the best, with the best… "Purple Grimace"…"No sticks, no stems, no seeds"…
Keep your eyes, ears, and crops peeled as these guys develop into one of the next great hip-hop acts in America. Crop Circles can be found at Amoeba Records, Rasputin Records, CdBaby.com, and iTunes.
The Bayliens – "Bubble Gum (feat. Cait La Dee)"
[youtube adckIKAfBlE nolink]
 Reviewed By Gary Jacobs
[Rating: 4/5]