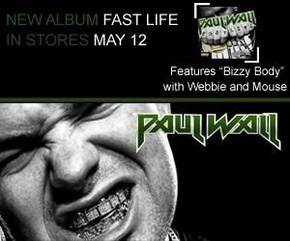 Friday night is always pumping at the Skope HQ. This particular Friday was off the hook as Texas' hip hop heavyweight emcee & entrepreneur, Paul Wall called in from Texas.
Paul Wall is getting ready to shoot his first single "Bizzy Body" featuring Webbie and Mouse off his forthcoming Fast Life album. Fans may recall the rapper has been busy promoting his Expensive Taste clothing line with Travis Barker and expanding his grill collection. Nevertheless, new material is coming soon as Paul's Fast Life LP is scheduled to hit stores on May 12th.
We got to chat with the "People's Champ" in two parts and he really opened up and let it be known. We talk about the newalbum, being a husband & father, the jewelry business, the recession, and so much more. Turn the volume up and see what's really good with Paul Wall.
SKOPE TV INTERVIEWS PAUL WALL PART I
[youtube JsX6yWbVRsk nolink]
SKOPE TV INTERVIEWS PAUL WALL PART II
[youtube mGMN8hztSog nolink]
www.myspace.com/paulwall
www.youtube.com/skopetv