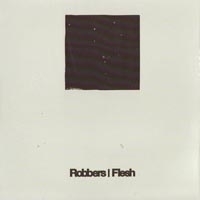 Unique, abstract, different, original, fresh and innovative= the new record, Flesh, by Robbers.   Robbers is made up of four members from Long Island, NY–Andrew Accardi (lead singer, guitarist, keyboardist and chief songwriter), Matt Builes (bass and vocals), Chris Kyriakou (guitar and vocals) and Rob Granelli (drums).   Marked as indie/alt/jungle, Robbers offer so much more diversity that Accardi would love the term "vague".   Vague meaning either leave it in the listeners' hands to decide or that their music simply can not be categorized or summed up.   Based on the mystery of the unknown, I myself like not hypocrisy but "Mysteriocrasy".   Hell, this could even be a future single or record title, let me know guys!
Flesh is a 6-Track Debut EP for the Long Island foursome.   The album starts up with a very trippy vibe right off the bat on "Eager".   Accardi also displays quite violent and disturbing lyrics at moments, which gives the song a dark appeal.   "Desert and Time" is probably my favorite song on the album due to its emphatic beat.   The guitar, bass and drum lines are just groovin' along with energetic clapping thrown into the mix.   Musically and rhythm-wise, all four instrumentalists bring the entire sound together nicely on "Desert and Time".   Final result is one kick-ass, cool song and one very distinct style.
The drummer, Granelli, is really workin' it out on track four, "Stay Together".   He seems to be setting the whole mood, tone and pace by way of his drumming.   Granelli offers a very dominant presence on "Stay Together", which resonates throughout the whole song.   He can also be heard jazzin' things up a bit on "I Stole from My Own Flesh and Blood" with a very jazzy backbeat.  
Flesh is full of intrigue that will make the listener not just hear the music, but that will make the listener try to understand the concepts.   Robbers dare to captivate the average bystander on this record.   You hear a band and a sound that is on the verge of revolutionizing the music scene and even dispenses glimpses and similarities to that of Radiohead.   Not bad for a group of young guys from the NY indie-underground world that just want to be known as "Vague" artists.   "Mysteriocrasy" at its finest ladies and gentlemen!!!
For more on Robbers and their debut EP, Flesh, SKOPE out www.myspace.com/robbers.
By Jimmy Rae
[Rating: 3.5/5]