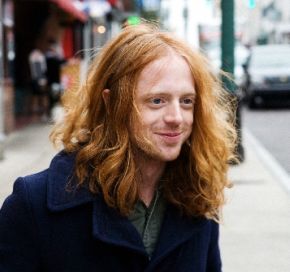 Kuroma's lead man, Hank Sullivant, envisioned the video for "In New York, Everything Is Tropical" frame for frame and director Adam Neustadter was able to make it a reality.
The guerilla style shoot took place all over Brooklyn and Manhattan including locations such as Coney Island, Wall Street, Bedford-Stuyvesant, Williamsburg, Time Square, Chinatown and the Lower East Side. Sullivant explains, "The song and video "In New York, Everything Is Tropical" is not parodic or contradictory or just referential. It is a minor and indifferent accumulation of certain trashed elements of pop and pop video, including pop parody itself. New York is a place of terror and stereotype and commercialism and art, but most importantly it is the place where these things synthesize in the most sublime way."
"In New York, Everything Is Tropical" Video:
SKOPE IT HERE!
 
Kuroma is also proud to announce their tour with Primal Scream throughout March. More dates throughout April follow. Full list of tour dates below.
2/24 – Savannah @ SCAD at the River Club
3/16 – Los Angeles @ Nokia Live*^
3/17 – San Francisco @ Fillmore*^
3/19 – Austin @ SXSW: Official Green Label Sound Party @ Opal Divine's
3/20 – Austin @ SXSW
3/22 – Chicago @ Metro*
3/24 – Toronto @ The Phoenix*
3/26 – Philadelphia @ Trocadero*
3/27 – Washington, DC @ 930 Club*
3/28 – New York @ Webster Hall*
4/09 – Vancouver @ The Media Club
4/10 – Seattle @ Vera Project
4/13 – Fargo @ Aquarium
4/14 – Minneapolis @ 7th St. Entry
4/15 – Sioux Falls @ Nuttys North
4/16 – Des Moines @ Vaudville Mews
4/17 – Chicago @ Av-Aerie
4/18 – Toronto @ Sneaky Dees
4/19 – Montreal @ Il Motore
4/21 – New York @ Mercury Lounge
4/22 – Brooklyn @ Union Hall
4/24 – Chapel Hill @ Local 506
4/25 – Atlanta @ Drunken Unicorn
4/26 РMemphis @ Hi Tone Caf̩
4/27 – Kansas City @ Czar Bar
4/29 – Denver @ Hi Dive
4/30 – Salt Lake City @ Urban Lounge
* with Primal Scream
^ with Brian Jonestown Massacre
Photo By Reid Rolls