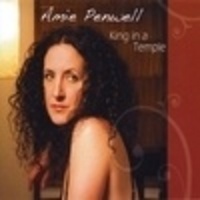 Singer/Songwriter/Pianist/Producer, Amie Penwell takes full credit for all except two songs on King in a Temple.   This talented musician brings you down to the real nitty-gritty of music with her soulful approach.   On the verge of gospel and pop, but just real true-to-heart soul singing represents Penwell and her latest work.  
Other artists on the album include: Grammy-nominated producer, Ben Leinbach, who also contributes the drums, percussion, drum programming and bass–Chris Haugen on guitars/mandolin/acoustic dulcimer and last but not least Margot Holtzman on viola.   The backing instruments to Penwell's signature voice are right on tune here.   Each artist complimented one another superbly by adding a whole other dimension to the sound.  
Right away from Amie Penwell, I hear gut-wrenching emotion belted out in such a deep and sincere way.   The funny part though is that Penwell is pouring herself out at you, but in such quiet fashion.   Her tone is consistently soft-spoken throughout the record, but performed with such powerful conviction.   The entire album is revolved around the loss of a person close to Penwell's heart.   She takes you on a trip of what she's feeling first-hand, which makes for an enlightening experience.   "Show me to the river, somewhere to wash away this feeling" captures the true spirit of King in a Temple right from the start.  
My only quam on this record is that maybe Penwell could have added a little bit more spice and variety to the mix.   By that I mean going away from the same pitch and tone from time to time and taking chances.   I understand the true sensitivity of the record and that is displayed beautifully without question.   But I think just by changing the octave up and down at times would have made an enormous difference to the listener.   The result—For Better or For Worse?   Well, that is the question but I truly think this effect would have made the album even stronger than it already is.  
10 well-performed and well-versed songs can be heard featuring one live cut, "Old Widow Maker" along with a Talking Heads cover, "Naïve Melody".   Definitely watch out for this indie artist as she displays high potential on her latest release.   Amie Penwell seems to be an artist with an honest-to-truth sound and is on pace to Humanize the music world.  
For more on Amie Penwell and her newest creation, King in a Temple, SKOPE out www.amiepenwell.net.  
By Jimmy Rae
[Rating: 3.5/5]