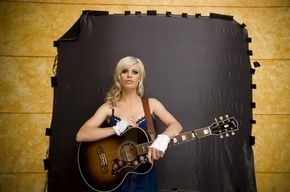 Geographically, she tracks from Auckland to Buenos Aires to Sydney. Vocally, she runs from Macy Gray to David Gray to Edith Piaf. Musically, she moves between Fiest and Broken Social Scene to Neil Young and Fiona Apple. Lyrically, she moves from sorrow to sunshine. Soulfully.  
Gin is Gin Wigmore, a remarkably complex singer, always keeping it true. Her five-track debut, Extended Play, was released by Island Records Australia on August 2nd.
"My stories are simple because I want to reach people. I want to touch lives," Gin says. "But at the same time I like to bring mystery. Sometimes we all need to ask: How? Why?"
Certainly, these questions also apply to Gin, and the high and low roads she has traveled to this point.
"These Roses" from the EP, Extended Play Mp3:
"These Roses" Video:
[myspace 40133097]