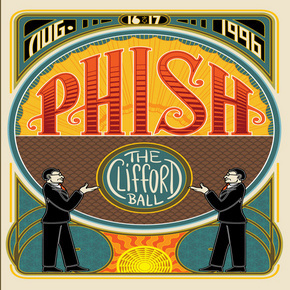 Rhino is releasing a 7-DVD collection from Phish documenting their 1996 Clifford Ball concert extravaganza. The Clifford Ball is regarded as one of Phish's landmark concerts within excess of   70K attending fans. The Clifford Ball DVD streets from Rhino on March 3rd.
Last fall, when members of Phish, guitarist Trey Anastasio, drummer Jon Fishman, bassist Mike Gordon, and keyboardist Page McConnell, announced the band would take the stage again for the first time in four years, tickets for the three-night stand at Hampton Coliseum in Virginia sold out immediately. This month, the band announced additional dates, marking a return to the road for one of the most successful touring bands of all time.
Listening Party Links:
Rhino starts the celebration a few days before Phish's highly anticipated shows with a 7-DVD collection documenting The Clifford Ball, a landmark concert event that drew more than 70,000 fans to upstate New York in August 1996. It was the largest concert event of 1996 in North America and set the tone for festivals including Bonnaroo and Coachella. The Clifford Ball will be available from Rhino Records on March 3.
Phish Videos:
"Fee":
Fluffhead:
Maze:
SKOPE IT HERE!
 
Punch You In the Eye:
Bathtub Gin: