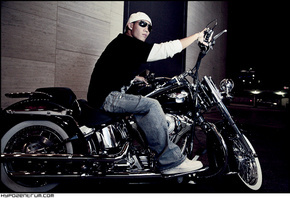 So one afternoon I am busy doing work here at the Skope offices. I have the Skope Radio player playing like I usually do while online. A song comes on by Lil Crazed called, "Volcanoes." Not only is the song extremely catchy but the  boy can rhyme too. I was so impressed by Lil Crazed that I felt compelled to learn more about the track and him as well.   Here it is!
Stoli: At what age did you know that you wanted to be an emcee?
Crazed: 14.
Stoli: How did you teach yourself to learn how to construct a song and a hook as opposed to just freestyling?
Crazed: I learned how to construct a song by listening to other artists that I look up to such as 2pac. I freestyle quite often, but nothing is like creating a song. The sensational feeling you get from creating a peice of art is amazing.
Stoli: On your Myspace page you represent for Minnesota and Texas. Where did you grow up and where are you at now?
Crazed: I am from Rochester, MN originally. Born and raised. I moved to Lake Jackson, TX for about a year with my parents and other family   members. It was a good getaway for a bit, but there's no place like home and I ended up moving right back to MN. I visit TX every few months though.
Stoli: What emcee that you grew up listening to has had the most influence on your flow today?
Crazed: I listened to a lot of everything. I was fans of tons of different artists with tons of different flows. I went from bumpin' Lil Bow Wow when he was still LIL Bow wow to Nelly to 2pac to Bone Thugs N Harmony. Nobody has an influence on my flow but myself, but I do enjoy   listening and learning from other emcees.
Stoli: Your single "Volcanoes" is crazy! Where did you come up with the concept and record that track?
Crazed: Mike Kalombo, the producer, came up with the track. He made the beat and came up with the hook and sent it over to me. It was actually the very first song he sent to me to start off my new album, "Static." I immediately fell in love with it. There was no question that this would be the first single off the album due to it's catchy hook, head boppin' beat, pop-feel, and overall hit. I recorded it in Tennessee with Mike Kalombo in his studio. He ended up producing my whole album that was recorded within a week and a half. He also produced a version of Soulja Boy's, "Birdwalk."
Stoli: You take advantage of the Internet crazy for promos. How much does your Internet hustle help reach out to your fans old & new?
Crazed: The internet is the best, easiest, cheapest, and most efficient way to network and reach fans. It's how I got my music out there. It's the best marketing tool there is. Shoot, look at Soulja Boy!
Stoli: Attempting to become a super-star emcee takes alot of work. What is your motivation that gets you up everyday to keep it moving forward?
Crazed: Haters. Fans. Love of the game and the passion.
Stoli: Do you think that Chris Brown will ever recover from the Rihanna inicident and how did that news effect you?
Crazed: Yes, I believe it's just a phase. It's just what's out right now. The industry started to get boring and people needed something to talk about. Since Chris Brown and Rihanna are huge right now, why not start up a big commotion off of everything? Honestly, in my personal opinion, I find it hard to believe that Chris Brown would do such a thing and if he did, "Breezy, you gotta step ya man game up homie. Never lay a hand on a woman, just shake the sh*t outta 'em!" haha But, you've gotta realize there are always two sides to every story.   I'm still a huge fan of both.
Stoli: You are always busy recording new tracks. How much of your real life plays out in your music and how important is it to 'keep it real?"
Crazed: It's all real. I don't like to fabricate my life in anyway. It's definitely important to keep it real. If you come off as a fake or spit fake, you lose respect. And to gain the fame most of these artists want, you need respect. I've got songs about life, death, girls, and my son. I try to put my life out through my music so people can feel me and feel like they know me so it's like I'm telling them a story personally.
Stoli: You are heavy into fashion, I dig your swagger. Where do you like to go shopping for all the hottest new gear?
Crazed: Anywhere. I'll shop from Wal-Mart to Macy's to Coach to corner stores. To me, swagger does not consist of clothes or gear or materialistic things. To me, swagger is how you portray yourself to people.
Stoli: The "Volcano" single is out on 2/14/09. What are your plans after that single is dropped and what has the response been so far?
Crazed: To promote the heck out of it and start looking into the music video for it. I also plan on getting the second single ready. The response of the single, "Volcanoes" is nuts. Only snippets have been released through videos and fans are already anxiously awaiting the release of the song.
Stoli: What is it about you that people call you, Lil Crazed?
Crazed: Because every time I spit, I tend to spit crazy. Ha. "Crazed" is past tense, the past is history so "Crazed"…. is history in the making.
Stoli: Thanks Lil Crazed, all the best!
Crazed: You're welcome. And thanks for all the support!
Contact:
Benny Banks
Sobenphy@gmail.com
612.481.5082