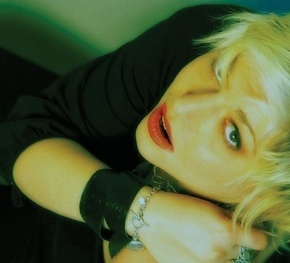 Singer/Songwriter Ella (Born Michelle Lynette Reid) is from Stillwater, Minnesota.   She openly tells her life story at http://www.ellaspage.com/.   When I first listened to her sing, I heard something deep and powerful.   After reading about her life, I now understand what I heard.  
A car accident nearly ended her life and from this tragic episode, she has mustered the strength and determination to do what she always wanted to do.   As she says, "music is my life blood and I finally have what I wanted all along.   A passion that I eat breathe and love,   I want to touch lives thru my music".
Ella – "Dirty Boys":
[myspace 50858517 nolink]  
Ella is currently working on her national debut album "Stunned By Sunrays", which is being produced by Grammy Award winning producer Dana Bailey, and her debut single "So Love" is now available on iTunes, Sony Connect and Rapsody.   It has earned credits of over 30,000 digital downloads in two weeks and has packed concert halls of over 15,000 people!   BusyBoy Entertainment is busy preparing for Ella's 2009 tour to coincide with her album release, which has already received rave reviews from industry people all over the world.   While on iTunes, be sure to check out Ella's current release of "Let's Reunite" the theme song from the new reality series, "The Reuniters" (http://www.thereuniters.com/).   Ella is known for her unique harmonies, astounding sense of range and vocal blending.   From her poetic lyrics in "No Longer We" to the dissonant, unexpected vocal range in "Super Grudge".  
Look for Ella online at http://www.ellaspage.com/ or http://www.busyboyentertainment.com/ or www.myspace.com/michellereidmusic.  
Her debut music video is set to be released late fall.   Go Ella!
Words By: Diana Olson