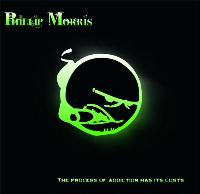 From it's mind-blowing title track to the end. 'The Process of Addiction Has its Costs' brings a lot of bang for your buck. Spot on attacks on office life, "gangsta" music, American nationalism, and consumerism prove that nothing is safe from Phillip Morris. With songs reminiscent of   The Pharcyde, Prince Paul, and MF DOOM, Phillip Morris proves himself to be one of the ultimate word smiths of hip-hop.
Some of the stand out tracks include:
"Ain't What She Used to Be (feat Hanna Rae)": This track is very reminiscent of Immortal Technique. Phillip Morris pulls out loaded guns at American Media and speaks the truth about what we all have to do overcome the "next Vietnam."
"Die For The Music   (feat. Awdazcate)": Like something pulled right out of Price Paul's Politics of the Business or   A Prince Among Thieves comes this skit. A blatant assault on "Gangsta" music that's full of laughs, but a tad over-long.
"The M.I.L.F Song": This song is not what you think it's about. It's a sexual-innuendo filled song about people's obsession with technology and keeping abreast with the latest got to have gear.
'The Process of Addiction Has its Costs' is out now. Buy it, and listen to it with headphones on.
Review By: Shawn Alexander Roy
[Rating: 4.5./5]