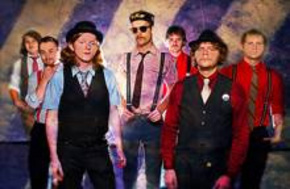 Chaos, Beauty, Clusterf*ck, harmony, eccentricity and splendor are all words that have been used to describe the music of rising Nashville Carnival-rock outfit, Darla Farmer.
As a band who initially drew its crowd from college-aged stoners, Darla Farmer quickly gained acceptance and excitement amongst an exceptionally diverse crowd. Frat boys, hobos, hipsters, milk maids, band nerds and bearded ladies alike all quickly came to love and relate to the spectacle that is Darla Farmer.
Darla Farmer's "Big Accident":
Paper Garden Records is proud to announce the release of Darla Farmer's "Rewiring The Electric Forest" album on February 17th. Be on the lookout for the full remix version of the album coming soon as well, entitled "Remixing The Electric Forest".