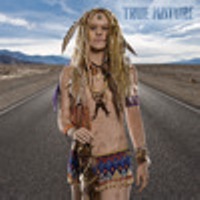 First image you notice right away is the gritty-looking female with Native American attire on.   This person appears as having very long, gangly hair and almost bark-like or even scaly skin.   On the back cover of this album, you witness this same woman facing a city with her back to us and her dairy-aire naked for the world to see.   The theme depicts an 'Un-programmed Human' looking into a city (world) that is not a part of her.   The art work can be credited to visionary rock artist, Glen Wexler who created this complex scene.
True Nature is the name and the latest EP is titled Feels Like Centuries.   The group is made up of solely one New York-based singer/songwriter/guitarist, Lou Barlow, accompanied by some very special guests.   Featured artists are: bassist, Tony Levin who has worked with John Lennon and Peter Gabriel, drummer and producer, Aaron Comess who is the founding member of The Spin Doctors and Guitarist, Gerry Leonard who has had the pleasure of playing with David Bowie and Rufus Wainwright.   Also backing vocals by Chris Barron, James Maddock and Brandon Wilde are present on the five-track EP.  
The music itself is sung with such compelling commitment by Barlow.   You really feel Barlow's emotions/feelings through what he conveys on this record.   Barlow seems to be an artist true to himself, true to his beliefs and true to his music in which is all wrapped up nicely in Feels Like Centuries. Just TRUE and REAL nature-of-being is Lou Barlow and True Nature.  
Words are said to speak a thousand words and Barlow sure works hard as hell to pack in all he can in five tracks.   Opening song, "Truth I Have To Steel", is about everyone not facing the music and stepping up to the plate to see the truth.   "Woman" touches on the importance of the female in this world.   This ballad pretty much states that the healing power or inner strength if you will of women is what keeps us men in line.   Take it or leave it–up for debate, but definitely worth a second thought.  
This singer/songwriter also rocks out on this album with a very diversified, modern-rock sound.   Inventive and gripping music is what Barlow and True Nature have here in front of you.   For more on True Nature and Feels Like Centuries, SKOPE out www.truenatureband.com.  
By Jimmy Rae
[Rating: 3.5/5]