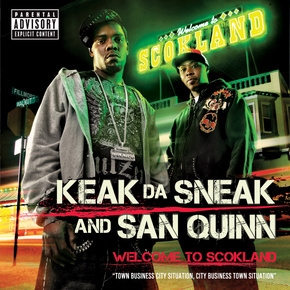 Last night at around 8:30 pm on the east coast we were connected with a true hip hop veteran. A California native & west side ridah, San Quinn. He is the epitome of the Bay Area and specifically San Francisco, his home.
We find San Quinn at a positive time in his 15 years in the hip hop game. He is riding high after releasing the album, 'Welcome To Scokland' with his homie & partner in rhyme, Keak Da Sneak. Keak is from Oakland and San Quinn being from San Fran is how you get Scokland. E-HUSTL Entertainment has put alot of faith & resources into the project and it looks like it will pay off.
Part I
[youtube BNdRvoxzooM nolink]
Part II
[youtube XHck8_S_-kI nolink]
We get to talk to San Quinn in two parts and the best part is just how real this artist is. We talk about everything from recording with Keak, downloading in hip hop, Chris Brown's career, the effect of hyphy and much more!
"Welcome To Scokland" MP3: