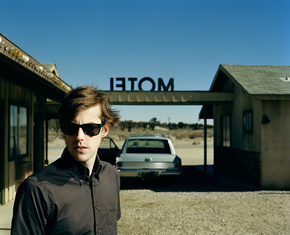 Premier pop powerhouse JACK'S MANNEQUIN has confirmed its first worldwide tour of 2009 in support of its critically lauded sophomore Sire/Warner Bros. Records album "THE GLASS PASSENGER."
The tour will kick off this month in Australia before moving across the U.K. and Europe in March, and will touch down in the U.S. in early April, lasting through late May.   Dates are listed below.
"The Resolution," the current single and video from "THE GLASS PASSENGER" (directed by "Twilight"-author Stephanie Meyer), has garnered its share of media attention and fan response. The clip has remained a Top 20 video at MTV.com and MTV2.com since September. USA Today called the single "one of this year's most hope-filled pop songs."
The track and video have resonated so deeply with fans that a new, live performance version of the song debuted on MTV Hits and MTV.com on February 4.  
"The Resolution" on MTV.com here:
opening acts are Low vs. Diamond (March 30 to April 19) and Erin McCarley (April 21 to May 24). Confirmed tour dates are as follows:
Sat                                                   Feb 21                                       Soundwave Fest.                                                                 Brisbane, AU
Sun                                                 Feb 22                                       Soundwave Fest.                                                                 Sydney, AU
Wed                                             Feb 25                                       The Metro                                                                                       Sydney, AU
Thurs                                           Feb 26                                       The Hi-Fi                                                                                           Melbourne, AU
Fri                                                     Feb 27                                       Soundwave Fest.                                                                 Melbourne, AU
Sat                                                   Feb 28                                       Soundwave Fest.                                                                 Adelaide, AU
Tue                                                 Mar 3                                           Soundwave Fest.                                                                 Perth, AU
Sat                                                   Mar 7                                           Lido                                                                                             Berlin, GER
Sun                                                 Mar 8                                           Knust                                                                                         Hamberg, GER
Tue                                                 Mar 10                                       Kings College                                                                             London, UK
Wed                                             Mar 11                                       Manchester Academy                                                                     Manchester, UK
Mon                                             Mar 30                                       The Warfield                                                                                 San Francisco, CA
Tue                                                 Mar 31                                       TBA
Thurs                                             Apr 2                                           The Showbox                                                                               Seattle, WA
Fri                                                     Apr 3                                           Roseland Theater                                                                   Portland, OR
Sat                                                     Apr 4                                           Knitting Factory                                                                     Spokane, WA
Mon                                               Apr 6                                           In The Venue                                                                               Salt Lake City, UT
Tue                                                   Apr 7                                           The Fillmore                                                                                   Denver, CO
Wed                                               Apr 8                                           Sokol Audit.                                                                                   Omaha, NE
Fri                                                     Apr 10                                       Congress Theater                                                                   Chicago, IL
Sat                                                   Apr 11                                       Myth                                                                                                           St. Paul, MN
Mon                                               Apr 13                                       Egyptian Room                                                                         Indianapolis, IN
Tue                                                 Apr 14                                       The Fillmore                                                                                   Detroit, MI
Wed                                             Apr 15                                       Touhill   Arts Center/U of MO                                           St. Louis, MO
Sat                                                   Apr 18                                   DeCarlo Varsity Center/Carroll Univ.               Cleveland, OH
Sun                                                 Apr 19                                       Sound Academy                                                                     Toronto, ON, CAN
Tue                                                 Apr 21                                       Hammerstein Ballroom                                                     NYC
Wed                                             Apr 22                                       TBC
Thur                                               Apr 23                                       House of Blues                                                                           Boston, MA
Fri                                                     Apr 24                                       TBC
Sun                                                   Apr 26                                       TBC
Mon                                               Apr 27                                       DAR Constitution Hall                                                   Wash. DC
Tue                                                   Apr 28                                       TBC
Wed                                               Apr 29                                       Electric factory                                                                         Philadelphia, PA
Fri                                                     May 1                                         TBC
Sat                                                   May 2                                         Center Stage                                                                               Atlanta, GA
Sun                                                 May 3                                         Sun Fest.                                                                                           W. Palm Beach, FL
Tue                                                 May 5                                         The National                                                                                 Richmond, VA
Wed                                             May 6                                         House of Blues                                                                         N. Myrtle Beach, SC
Thur                                               May 7                                         House of Blues                                                                         Orlando, FL
Sat                                                   May 9                                         House of Blues                                                                         Houston, TX
Sun                                                 May 10                                     Stubbs Amphit.                                                                         Austin, TX
Tue                                                 May 12                                     The Blue Note                                                                           Columbia, MO
Wed                                             May 13                                     Cain's Ballroom                                                                       Tulsa, OK
Thur                                             May 14                                     House of Blues                                                                           Dallas, TX
Mon                                             May 18                                     The Grove of Anaheim                                                   Anaheim, CA
Wed                                             May 20                                     The Wiltern                                                                                     Los Angeles, CA
Fri                                                     May 22                                     Soma                                                                                                     San Diego, CA
Sat                                                   May 23                                     Marquee Theater                                                                 Tempe, AZ
Sun                                                 May 24                                     House of Blues                                                                         Las Vegas, NV
Thur                                             June 25                                     Summer Fest.                                                                                 Milwaukee, WI
Photo Credit: James Minchin