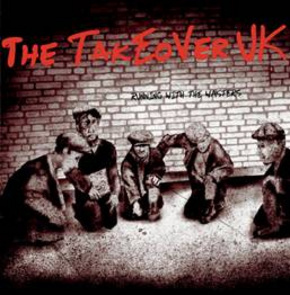 The Takeover UK, hailing from the exotic land of Pittsburgh, PA is hitting the road in support of their Rykodisc debut "Running with the Wasters" due out on March 24th.  
The foursome perform a raucous blend of pop smattered with a bratty dose of punk rock rebellion.   Huge hooks and smashing choruses flirt with one another in songs such as "Ah La La," while the band's inherent charm shines through in tracks, "Evelyn" and "The Lonely Ones." The Takeover UK are as charismatic on record as they are live, with an astonishing ability to craft scores of classic songs that make people move.
"Ah La La" MP3:
"Running With The Wasters" MP3:
Video for "Ah La La":
The boys plan to tour relentlessly in 2009 with warm-up dates beginning in February.  
02/16                                                     Washington, DC                                           DC9
02/17                                                     Baltimore, MD                                                 Talking Head
02/18                                                     Charlotte, NC                                                   Snug Harbor
02/21                                                     Norfolk, VA                                                           The Boot
02/22                                                     Atlanta, GA                                                           Drunken Unicorn
02/23                                                     Tallahassee, FL                                             The Engine Room
02/26                                                     Orlando, FL                                                           AKA Lounge
03/02                                                     New York, NY                                                   Pianos
03/03                                                     Cambridge, MA                                             TT The Bear's
03/04                                                     Philadelphia, PA                                           M Room
03/05                                                     Hamden, CT                                                       Space
03/11                                                     Chicago, IL                                                           Beat Kitchen
03/12                                                     Des Moines, IA                                               Vaudeville Mews
03/13                                                     Kansas City, MO                                         TBA
03/14                                                     St. Louis, MO                                                     Firebird
03/16                                                     Lincoln, NE                                                           Box Awesome
03/17 — 03/20                                     Austin, TX                                                               SXSW
04/17                                                     Pittsburgh, PA                                                 Brillobox