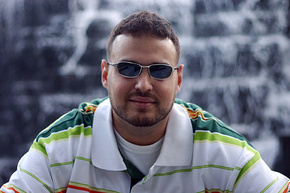 Mulatto Patriot, or MP as he is also known, is not what you would typically expect of a hip-hop artist. Hailing from Chicago, IL, MP is a more than just a talented and multi-faceted producer, engineer and entrepreneur.
He is an active member in his community where he engages and educates local youth with the same fervor and appreciation that attracted him to hip-hop so long ago.
With heavy horns and dynamic drums, MP carefully crafts this beat and calls on Chicago luminary Pugs Atomz to do the honor with the lyrics, topped with a vocal sample from the legendary Casual (who appears on another song from the album, "Audio Terrorist" with Ras Kass & Prosper Jones).
The General Ft. Pugslee Atomz, Awdazcate, & DJ Georsch MP3:
The General Ft. Pugslee Atomz, Awdazcate, & DJ Georsch Video:
[youtube TId2AFjVeaM nolink]