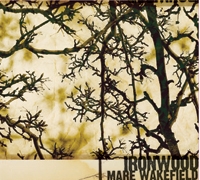 Originally from Texas but currently residing in Nashville, Mare Wakefield has created a gripping album in Ironwood.   This singer/songwriter is playing mainly folk music with country influence and with such conviction.   Honestly, she has much more to offer than just a simple folk/country sound and this Texan proves this notion to be correct on this new project.   And for the record, her first name is pronounced Mar-y; don't worry I made the mistake too–lol.  
Right away from simply the cover, I noticed a nature theme with the tree branches on the front and sketches of flowers and leaves on the back.   The nature scene blended right in with Wakefield's style of singing and playing.   She can be heard as a very earthy listen with folk and country being her forte.   I have to say that her music is extremely pleasant-sounding while exhibiting a peaceful vibe.
One of the most powerful traits this record offers is Mare's sincere vocal abilities.   She sings with such conviction and emotion that exudes an aura of beauty and excellence to the listener.   Wakefield captures feeling on tape through her true-to-herself approach on Ironwood.   On "Dreams Come True", you get an incredible amount of quiet purity in her voice, which literally could put someone in a dream-like state.   On the next song, "Together, Alone", Wakefield performs with such a soulful approach, yet being extensively sensual at the same time.   "Whiskey Does it Better" is just a fun, laid-back tune poking fun at drinking it up.   I would coin this song as not the "Ballroom Blitz" but the Barroom Blitz.   And then Mare Wakefield is able to evoke a reverse reaction out of "Wedding Day", which displays a sad undertone and not the wedding bliss sound you would expect from the title.  
On all facets, simply amazing what Mare Wakefield was able to do on this album.   The sound is pure, it is real and it has heart like you can't imagine.   I can tell right away that Mare Wakefield's heart and soul were put into this new record, it shows.   For more on Ironwood and her emotion-captured music, SKOPE out www.marewakefield.com.
Review By Jimmy Rae
[Rating: 4.5/5]